---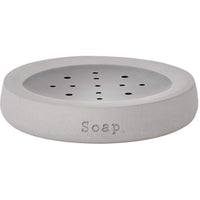 Skyline Light Gray Cement Round Soap Dish Holder Tray Soap Holder, Soap Saver. Create a natural and elegant look in the bathroom with the new Skyline series. All of the accessories in this line are made from 100% cement which gives them a robust appearance. Like most natural products, Skyline accessories have irregular surfaces and minor colour nuances which give them a lovely non-uniform look & feel. The items are all delightfully inscribed with text that indicates their purpose. When combined with copper or natural materials like marble, wood and concrete, these accessories create a warm and relaxed mood in the bathroom.
- Imported from Belgium
- Color: Gray, Polished Stainless Steel
- Material: Cement and Stainless Steel
- Type: Free Standing
- Shape: Round
- Dimension: 4.7 W x 4.7 D x 1 H in.
With its rounded shape and rugged cement structure, the Skyline Soap Dish provides the finishing touch to complete the natural look of your bathroom or WC. The dish is easy to keep clean and includes a stainless steel grate for the soap to sit on and a small inscription comprising the word, Soap.