---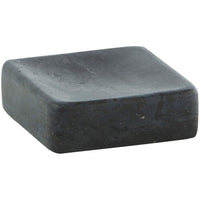 Hammam Dark Gray Round Soap Dish Holder Tray Soap Holder, Soap Saver, Marble. Bringing the tranquillity and well-being of a genuine Hammam into your home is what you do with the Hammam series from Nova Bath Collection. The products from the Hammam range are handmade which makes each of them a special part of your bathroom, toilet or kitchen. The anthracite marble used for this series, mostly in combination with stainless steel, gives it a rustic and authentic appearance. Simple and subtle making it a lovely detail. The Hammam soap dish goes well with any wash basin and, when used in combination with a deliciously fragrant soap from the Nova Bath Collection collection, it completes the look and feel of your bathroom.
- Imported from Belgium
- Color: Dark Gray
- Material: Marble
- Type: Free Standing
- Shape: Square
- Dimension: 3.9 W x 3.9 D x 1.2 H in.