---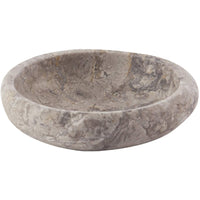 Conor Beige Round Soap Dish Holder Tray Soap Holder, Soap Saver, Marble. Classical, chic and elegant. The accessories from the Conor series create a luxurious and comfortable mood in your bathroom, toilet or kitchen. The products are Designed from Beige-coloured natural rock which creates warmth and atmosphere. The Conor soap dish goes well with any wash basin and, when used in combination with a deliciously fragrant soap from the Nova Bath Collection collection, it completes the look and feel of your bathroom.
- Imported from Belgium
- Color: Beige
- Material: Marble
- Type: Free Standing
- Shape: Round
- Dimension: 3.9 W x 3.9 D x 1.2 H in.