---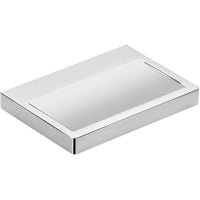 Ext Wall Mounted Soap Dish Holder Tray Soap Holder, Brass Polished Chrome. Created to bring everlasting beauty; this stylish Soap Dish is designed to increase the level of elegance in your bathroom.
- Manufactured in Spain.
- Color: Polished Chrome
- Material: Brass
- Type: Wall Mounted
- Easy installation: double pitch screw
- Anti-corrosion
- Shape: Rectangular
- Dimension: 5.5 W x 3.9 D x 0.8 H in.
Ext Collection has successfully passed the high demanding tests of long last durability and resistance to extreme uses (static charge or impact testing)
to assure long last durability of the product. Easy installation: double pitch screw. Hidden attachments. Anti-corrosion.