---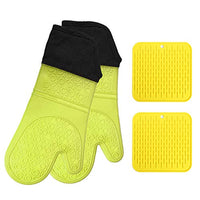 Silicone
Complete Kitchen Cooking Set – This unique accessory set comes with two insulated silicone oven mitts and two silicone pot holder mats measure 7" x 7" for better kitchen and grill use.
Heat-Resistant Silicone – Each piece is crafted with flexible, durable silicone, making them ideal for moving or holding hot pans, plates, utensils or dishware.
Textured, Non-Slip Grip – Gloves and the hot pads both feature textured surfaces to improve your grip strength, control and stability over hot, heavy, or slick items.
Indoor & Outdoor Versatility – Designed to better protect hands from burns and counter from scalds, this oven mitt and potholder set is great for all your meals.
Heavy-Duty Durability – These gloves and potholders are not only heat resistant, they're comfortable, flexible, and offer long-lasting, food-grade safe versatility.
Make prepping, moving or serving your favorite meals and dishes easier with multipurpose silicone oven mitts and pot holders made for holding hot dishware.
Whether you're working over the hot stove or cooking on the backyard grill, it's important to protect your hands and other surfaces from heat or flames that can cause burns, scalds or worse. That's why we developed this Silicone Oven Mitts and Silicone Potholders set that comes with two mitts and two trivet mats perfect for daily kitchen and grill use.
Thanks to this 4-pieces set, you can worry a bit less when working over hot flames, ovens, stoves or grills, especially when pulling out hot pans, serving hot plates, or placing dishware on your nice new hardwood table. Get a grip on your pots and pans and keep your hands and your counters safe today!
Product Details:
Silicone Oven Mitts and Pot holders (4-Piece Set)
Food-Grade Safe
Heat Resistant: 450°F
Heavy Duty, Dishwasher Safe
Superior Hand, Wrist and Counter Protection
Lightweight and Compact
Indoor and Outdoor Use
The silicone heat resistant mat can also be used as a jar opener.
XSC Amazon ASIN B07JNHT5ZR Home & Kitchen Kitchen & Dining , Kitchen & Table Linens , Potholders & Oven Mitts , Oven Mitts