---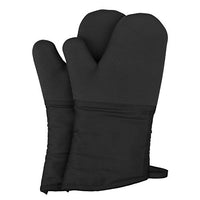 Silicone
Better Heat Resistant Temperature Performance: Magician oven mitts 450°F> other brands 420°F.
Better Protection: 12.6 inches long length and soft quilted liner> other brands 10.8 inch ,better portable, more flexible, extra protection for your forearms.
Better Adaptability: Specially designed for people with smaller hands> other brands either too large or too small.
Certification: FDA approved, BPA free, safer in touching food.
Better Guarantee Performance: Magician oven mitts with Lifetime warranty> other brands with nothing, If there are any issues with your product, simply contact us and we will plant to replace or offer you a full refund.
Magician Oven Mitts Will Give Extra Protect Your hands From The Heat. It's Your Best Helper When You Use The Oven. It Prevent Steam Scalds While Cooking on The Stovetop or Draining Boiled Pasta. At 12.6" inches Long Our Gloves is Enough To Protect Your Forearm, and the Heat-Resistant Up to 450 degrees Fahrenheit is Enough to Protect Your Hands. Magician Oven Mitts are Made of 100% FDA-approved Silicone, Making Them Non-toxic and Waterproof. Strong Material gives Them Special Clamping Force to Make Master Any Pan or Plate With No Single or Leaking Gloves. When it's Time to Clean Up, Just Put The Gloves Into the Washing Machine or Dishwasher, or Use a Damp Cloth to Clean. If For Any Reason Our Product Does Not Meet Or Exceed Your Expectations Just Send It Back Our Way for a Full Refund of the Purchase Price. What are You Waiting For BUY WITH CONFIDENCE NOW!
Magician Amazon ASIN B01D4GVVKE Home & Kitchen Kitchen & Dining, Kitchen & Table Linens, Potholders & Oven Mitts, Oven Mitts