---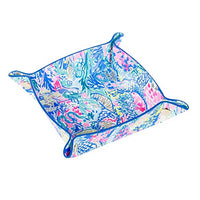 Jewelry holder measures 5 inches x 5 inches
Made of leatherette, this jewelry dish is perfect for your nightstand or kitchen counter
Featured in a multicolored Lilly Pulitzer print with gold side snap details
Perfect to use as a key holder, earring holder, or trinket dish
Keeps all your jewelry and loose items organized and in one place
Lilly Pulitzer® Leatherette Jewelry Holder

Lightweight & Compact


Measures 5 inches (12.7 cm) x 5 inches (12.7 cm)



Snap corners can be undone to make the tray fold flat



Ring dish is featured in the multicolored Lilly Pulitzer® print, Mermaids Cove



Easily fits earrings, rings, necklaces, keys, and more for easy organization


Keys, loose change, and all kinds of other stray objects look trendy and tidy when tossed in this leatherette valet. The jewelry tray measures 5 inches x 5 inches and is featured in a Lilly Pulitzer print faux leather with gold snap side details that can be undone to fold the valet tray flat. This flat jewelry organizer is perfect for storing all your loose items. This hand jewelry holder is great to use as a bedside tray, as coffee table decor, or to set out by the kitchen sink and use as a ring jewelry holder.

Jewelry dish is perfect for a birthday, graduation, Mother's Day idea, or a treat for yourself.
Lilly Pulitzer Amazon ASIN B07GBJTSWF Clothing, Shoes & Jewelry Shoe, Jewelry & Watch Accessories , Jewelry Accessories , Jewelry Boxes & Organizers , Jewelry Trays