---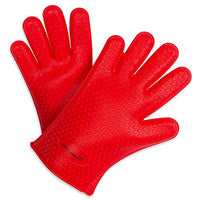 silicone
ELITE HEAT PROTECTION: Dual-layer gloves specifically designed to protect your skin from open flames and oven temperatures with an outer silicone glove and inner heat-resistant cotton layer.
MULTI-FUNCTIONAL : The ultimate kitchen glove protects your hands during chopping, slicing, baking, frying, and just about anything else you might be doing in the kitchen.
TEXTURED GRIP: Avoid messy accidents and broken baking pans.
COMFORT AND DEXTERITY: 5-Fingered design offers comfort and allows your fingers to move independently for better grip.
EASY CLEANING: Dishwasher safe for effort free washing.
Internet's Best Heat Resistant Silicone Kitchen Gloves are proudly manufactured for comfort, functionality, and durability. They are the perfect solution for you to protect your hands, while maintaining a pleasurable cooking experience.
Internet's Best Amazon ASIN B01K4XETEU Home & Kitchen Kitchen & Dining, Kitchen & Table Linens, Potholders & Oven Mitts, Oven Mitts