---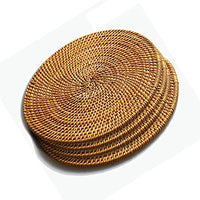 MATERIALSThese non slip trivets are made with natural rattan by hand woven.
DESIGN4 packs pot holder set, pretty rattan golden color with natural fragrance.
FUCTIONDecorative trivets for kitchen or dining table and perfect display for home, wedding, party, and banquet.
DURABLE7.08" kitchen hot pads sets,Insulation performance,suitable for kitchen trivets, kitchen hot pads for countertops & tale,heat resistant mats for pots & pans, rattan coasters,etc.
High Quality Guarantee And Sale ServiceThe professional material and craft insure the quality of item. If you have any question, please contact our Customer Service or send email to our company's mailbox, we will give you a satisfied solution in 24 hours.
Product Description WARRAH round trivets are made of 100% natural Vietnamese cane.Protect tables and counter tops with this elegant set of heat resistant mats.The sizes of pot holder set can support all sorts of tea cups,drink glasses, hot dishes,pan and pots, an excellent tool for Kitchen & Dining .Hand-woven decorative trivets style ensures an exotic flavor, it will be also a great gift choice. Multipurpose HEAT RESISTANT: These heat-resistant kitchen hot holders are thick (thickness is 8mm~10mm) enough to help protect counter tops, tabletops, and kitchen surfaces from heat damage due to hot dishes, pots or pans. HOME DECOR: Decorative trivets for table have a good function of practicability and decorations. Woven trivets for table perfect display for home, wedding, party, and banquet. Beautiful table decoration,can impress your guests. BEST GIFTS: If you are looking for gift ideas for housewarming, Christmas, birthday, Easter, Mother's day, mom's, or a teacher's gift, a set of 4 handmade wooden table decor trivets will be a universal gift idea for any holiday and occasion. Read more Read more Notes Not long-term exposure to outdoor sun exposure, or rain washed Not long-term placed in too wet shade, so as to avoid moldy borers. Wipe gently with a damp cloth and store in a dry area. Rattan trivets have a tendency to turn bright darker brown in color over time then will be get a better looking. Read more Materials & Hand-Made Natural Materials Made from 100% Vietnamese natural cane.Environmental-friendly.Only Autumn season in which to get the golden rattan, these kitchen trivets are unique and invaluable. Green Process Natural trivet mat sets by the craftsman's hand, do not wax, not paint, non-toxic, no pollution caused by paints,are baked from the smoked and trivets are smooth without prickly parts. Hand Made Soft fire makes s
Favson Amazon ASIN B07JQ2RMM6 Home & Kitchen Kitchen & Dining , Kitchen Utensils & Gadgets , Kitchen Accessories , Trivets