---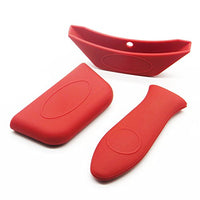 Good Helper of Your Family (3pc) - 1 Classic Handle Holder & 2 Assist Handle Holder. 100% FDA Grade and BPA Free, High-grade food safe silicone heat resistant meets FDA standards, 2.Non-stick BPA free. Protect your hands from -104 ºF to 464 ºF (-40°C to 240°C)
Perfect for Pan Handles - Slides smoothly over metal skillet handle, providing a stylish alternative to traditional mitts and potholders. Ideal for serving sizzling fajitas, pan-seared steaks, succotash, etc. straight from the stove to the table.
Dishwasher Safe and Easy to Clean - No texture on the surface makes it easy to clean by hand. Practically everything washes off the nonstick surface of the pan handle with ease. Just drop in the dishwasher, or quickly rinse by hand
Antiskid and Heat Insulation - Handle holders specially designed raised anti - slip grip inside for more security when moving heavy hot pans, safely reducing the transfer of heat, these silicone hot handle holders are the perfect addition for your new cast iron or all-metal cookware.
YOUR BEST FRIENDS IN THE KITCHEN. hot pans and all-metal cookware a breeze with absolute safety
Makes Cooking With Cast Iron Cookware Easy, Safe and Fun
- You can have the silicone sleeve on the whole time when cooking on the stove so you don't grab the cast iron by mistake.
- Takes up very little space in your drawer.
- Secure & comfortable grip.
- Size length 5.6 inches and 1.97 inches wide

-The handle can be carried out at a low cooking temperature at the top of the cooking and can be used to transfer to the oven handle (does not apply to the oven).
Evoio Amazon ASIN B07DW2SSNM Home & Kitchen Kitchen & Dining , Cookware , Cookware Accessories