---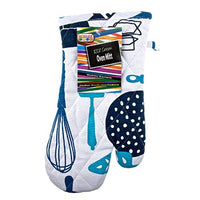 GREAT QUALITY OVEN MITT: Don't burn your hands while you take out your favorite meals out the oven – keep them completely safe with our heavy duty yet lightweight oven mitts made out of cotton.
COLOR CODED KOSHER UTENSILS: Made to make life easier in the Jewish home, separate dairy, meat and parev products with ease color coded and labeled blue, red and green kitchen tools.
SOFT AND QUILTED: Your hands will fit right in and feel perfectly snug – our oven mitts are quilted so they contain a supremely cozy quality that won't hurt or irritate your hand at all.
A WONDERFUL PRESENT: The perfect Judaica housewarming present, wedding present, or for any Jewish friends or colleagues with a kosher kitchen.
Keep your kitchen kosher while using the highest quality cookware with • 100% Cotton- Blue for Dairy (Milchik)Make your time in the kitchen a lot easier and stress-free by using our oven mitts that are made to provide you with absolute quality. Our oven mitts are made out of 100% cotton so its high quality and strong to not wear or tear easily. It is also incredibly comfortable to wear in any situation. They are quilted to provide you utmost comfort whether you're putting in a dish or taking it out the oven. The Kosher Cook provides a wide array of tools to help separate milchig, fleishig and parev. Color coded products and tools along with labels and stickers allow you to see at a glance if the item is dairy, meat or pareve.Whether you are new to keeping kashrut or a seasoned veteran looking to make life easier, the Kosher Cook has the tools to keep the highest standards of kosher cooking.Part of the Ner Mitzvah family, The Kosher Cook is another way we to help you keep Jewish traditions and laws. Family-operated since the 1940's, Ner Mitzvah is an expert maker of household products and the premier source for traditional and gift Judaica items.
The Kosher Cook Amazon ASIN B0092ZH7HI Home & Kitchen Kitchen & Dining, Kitchen & Table Linens, Potholders & Oven Mitts, Oven Mitts