---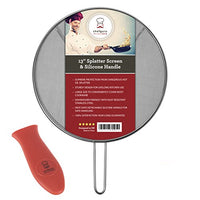 ULTRA FINE MESH: Stopping grease and splatters in its tracks! Pairs perfectly with the Silicone Pot Holder for all your pans and cast iron skillets, keeping your hands safe from burns while cooking.
SUPERIOR-GRADE: Steel construction, strongest and rust resistant. Firm hold, posture-friendly.
FINEST QUALITY: Say no to the boiling hot oil from your frying pan with our large splatter screen.
CLEANING MADE EASY: Not only will the splash guard shield you, it will also prevent the greasy mess in your kitchen. The stainless steel permits for effortless manual cleaning or just place in dishwasher.
PEACE OF MIND: With a one year guarantee, we offer a full-refund if you're not fully satisfied!
• Enhance your cooking experience with pride, safety and peace. The ChefGuru Splatter Screen is a ground breaking kitchen-friendly innovation like none other. Avoid nasty food particles, scorching oil and hot fluid splatters while making your kitchen stay an enjoyably safe one.• At 13 inches of pure stainless steel protection, this screen-guard provides stability and sturdiness that ensures foolproof safety. Easy to wash with zero clean-up hassle, fully rust-proof and 100% dishwasher safe.• The magnificent ChefGuru screen guard upholds the highest grade of reliability and value; employing simplicity and strength to ensure that the durable wire mesh is thick enough to maintain form and resist breakage.• FDA-approved, BPA-free and removable Silicone Pot Handle sustains heat upto 450°F for safe and effective protection from burning.• We affirm the flawless grade and top quality steel used to construct the ChefGuru screen guard as a genuine work of art!• Heavy duty, rust resistant and sturdy. Immaculate design induces prolific handle-frame support ensuring that the product is built to last.• Finest in design-engineering ensures that the highest industry parameters and standards are exceeded with dynamic customer care focus.
ChefGuru Amazon ASIN B01CX4OFV0 Home & Kitchen Kitchen & Dining, Kitchen Utensils & Gadgets, Specialty Tools & Gadgets, Splatter Screens