---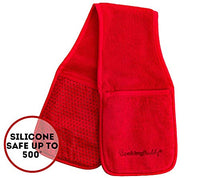 100% Cotton Terry With Silicone Inserts
ALL-IN-ONE. Your Cooking Buddy is a terry cloth prep towel, dual pot holder, tool caddy, lid gripper and trivet all-in-one!
HEAT RESISTANT / NON-SLIP GRIPS allow you to hold hot cooking, baking, & grilling utensils, tools, dishes, pots, & pans.
PROFESSIONAL GRADE. 100% Terry with restaurant style silicone Inserts which are heat-resistant up to 500ºF.
CONVENIENT. Hangs over your shoulder so it's always within reach for grabbing hot items or being used as a prep towel.
MACHINE WASHABLE. Dryer safe or air dry. Hang over oven door handle when washed so it's easily within your reach.
Too hot to handle Try cooking with a buddy! As seen on QVC, this innovative Campanelli Products kitchen tool is designed to hang over your shoulder so it's always within easy reach. The Cooking Buddy has 100% fiber reinforced silicone inserts which protect against temperatures up to 500ºF while providing extra grip to ensure pots, pans, and dishes don't slip. Use the soft outer terry material to clean & dry hands. While draped over the shoulder, the storage pouch can be used to hold cooking tools, recipe cards, or keep your mobile device close by but out of harms way. Plus, when you fold the Cooking Buddy, its heat resistance and soft material make it a great trivet for hot serving dishes.
by CAMPANELLI Amazon ASIN B075MK5J19 Home & Kitchen Kitchen & Dining, Kitchen & Table Linens, Dish Cloths & Dish Towels