---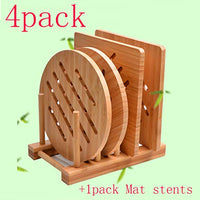 Bamboo Trivet have good heat resistance, heat-resistant pot pads to help protect counter tops, tabletops, and kitchen surfaces from heat damage due to hot dishes, pots or pans
natural wood color with pretty wood grain. These great colors add vibrant life to any kitchen or dining room.
Bamboo Trivet have a nice natural fragrance. using fast growing bamboo products conserves hardwood forests.Bamboo Trivet hard and wear resistant
note: Bamboo Trivets Keep it in dry place, only use a cloth to clean it.Please do not put microwave oven and any other high temperature electrical appliances, to prevent deformation
If you have any questions, please feel free to contact us, we are always ready to help you!

Bamboo Trivet. Insulation performance,non-slip, suitable for kitchen table mats, bowls mat, dish mats, pot holders, coasters, table mats, etc.
Bamboo Trivet.protects surfaces: Bamboo anti-hot Trivets have good heat resistance, heat-resistant pot pads to help protect counter tops, tabletops, and kitchen surfaces from heat damage due to hot dishes, pots or pans
Natural Bamboo Trivet Mat Set .The first time the use of bamboo products, please soak for 1-2 hours with salt water, and then cleaned to use.Keep it in dry place, only use a cloth to clean it.
Garkup Amazon ASIN B07L63XMFX Home & Kitchen Kitchen & Dining , Kitchen Utensils & Gadgets , Kitchen Accessories , Trivets