---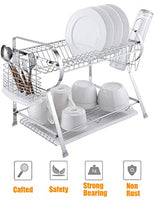 MULTIFUNCTIONAL DISH RACK - 2 Tier dish organizer design, this drying rack can handle kinds of kitchenware and dinnerware such as plates, bowls and cups. Large capacity with utensils drainer box.
PREMIUM QUALITY DRYING RACK - Sturdy 17 stainless steel slots protect dishes/plates perfectly. Anti cutting caft make sure the safety of using.
EASY DRAINING & CLEAN- You just need put your wet plates, dishes, bowls and other utensils on this dish drying rack. They would be drained. Convenient disassembly structure make water collection pate easy to remove and clean. Every parts can be separate.
MULTIFUNCTIONAL STORAGE SPACE - Different item will be placed in different space.It has utensils drainer box for fork, spoon and knife. 17 sturdy hold slots can hold your dishes and plates and you can put bowl and cups in the middle.
100% SATISFACTION GUARANTEE - We are confident in our products and stand behind them 100%. Please feel free to contact us with any questions or concerns and we will be glad to help in less than 24 hours!
Kitchen Hardware Collection Countertop Dish Drying Rack with Utensils Drainer Box Kitchen Stainless Steel Plate Holder Bowl Cups Draining Rack Organizer with Drainboard
This dish drying rack provide multifunctional large storge space for you. Sturdy dish slot can hold your plates and dishes safely. Also, it still have a part for your bowls and cups. You can put it on your countertop of the kitchen.
Product Features:
Multifunctional Storge Space: Utensils drainer box dry fork, spoon and knife quickly, sturdy groove design can hold your dish and plate stablely.
Easy Installation: No complicated installation. Then you can put it on your countertop or in your cabinet.
Quality Stainless Steel: Easy to clean and no rust. Best material for kitchen hardware.
Removable Parts: It's convenient to pour out the water and clean each parts to keep dry.
Product Specification:
Length: 21.5" Width: 11" Height: 13.6"Package List:
Dish Drying Rack&Installation Accessories
Installation Instructions
Tips: Need simple installation. If you find any missing parts or have any problem, please contact us and we will solve it promptly.
Kitchen Hardware Collection is a manufacturer and a seller that committed to the kitchen space. We continue to listen to our customers and explore new products, new features, aim to bring customers clean, multi-functional, simple kitchen using experience. We own factories and reliable partners, we have the ability and confidence to provide value products and quality services.
Kitchen Hardware Collection Amazon ASIN B07G25LZ5W Home & Kitchen Kitchen & Dining , Storage & Organization , Countertop & Wall Organization , Dish Racks