---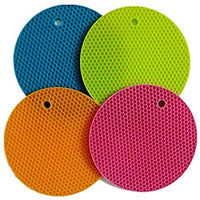 Sale
FDA approved non-slip food-grade durable flexible silicone material. Easy to bend and twist, thick enough for heat resistant up to 500 degree Fahrenheit.

Can be used as a holder for hot pot, dish, and cover. Used as mat for protecting counter tops, placing silverware, used as grip pads to open jars, or used as a garlic peeler. The list of usage is endless.

Easy to clean with hand wash, or place on top rack of dishwasher. Stored them flat, roll up, or hang with built-in holes.

Set of four pads with convenient size of 7 X 7 X 0.25, and a Stainless Steel Veggie Swivel Peeler with Plastic Handle, plus a 77-page eBook for healthy cooking.

A perfect gift for yourself or any occasion. 100% Money Back Guarantee!

Color : Blue Green, Orange, Pink

Size : Round-shape with peller
Give a new look in your kitchen and dining room
Tired of those fabric pads that with stain, odor, hard to clean up material? Try this new generation heat resistant multi-purpose mat.
Each mat is made from FDA approved silicone material. NO strong chemical odor. Easy to bend and twist. Thick enough (about 4 quarters in a stack) to protect your hands, table surface, counter top from the heat. Easy to clean and store. Can be used as a hot pot holder and dish holder, can be used as a mat to protect the counter top and table, can be used as a jar opener, can be used as a garlic peeler, the list goes on and on...
We dare to compare. Our product is in bright colors and premium quality. Our price is less than many similar products on the market. And our offer does not stop here. You are not only getting this awesome innovative silicone set, you are also getting a Stainless Steel Veggie Swivel Peeler with Plastic Handle, a 77-page PDF eBook Healthy Cooking Tips which filled with detailed healthy cooking information, recipes, and how to's.
Are you ready to give this 2 in 1 bundle set a try, or wanted to give your love one as an awesome gift? Click the Add to Cart yellow button above to grab one now.
Note, when used as potholder, please use 2 pieces for extremely hot object. eBook will be sent to you via email when the order is ready to ship. Please bear in mind that photo may be slightly different from actual item in terms of color due to the lighting during photo shooting or monitor's display.
Still want to search more options? Scroll up for more sizes and shapes.
We are confident that you will like our product. But if for any reason you are not satisfied with the item, simply return it for a full refund or exchange. No questions asked.