---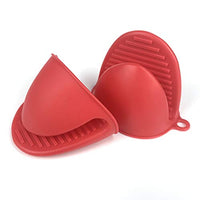 Silicone
FOOD GRADE SILICONEMade of high quality silicone material with stability and high temperature resistance. Non-toxic, odorless, safe and reliable.
WITH THICK MATERIALThe gloves are thickened and anti-scalding, and the heat insulation effect is good. Not easy to be pierced by sharp objects, thick and durable, heat insulation and anti-scalding.
STRIPE NON-SLIPRaised stripes can effectively increase friction and prevent items from falling due to slipping.
LARGE INTERNAL SPACEIt conforms to the gripping habit of the wrist, has a large internal space, and is convenient and comfortable to use.
GOOD FLEXIBILITYNo matter how the glove is pulled or twisted, it can be restored to its original state and can be reused. There are hanging loops on the side of the gloves, which can be hung and stored to avoid messy kitchen.
This product is water resistant and can be used in dishwashers, easy to clean and extremely heat resistant. You can quickly and easily pick up and remove the dishes that are heated by the microwave. Specially designed and easy to hang, it is a great choice for your kitchen essentials. The safe, non-slip handle design is ideal for handling hot plates and small plates.Product Material: Silicone Product Size: 4.3 x 3.3 inch Product weigh: 70g What you get - Package: A pair of Silicone Heat resistant Mitts - 30 days money-back and 12-month worry-free warranty. Any problem, free to contact us.
ZXFYE Amazon ASIN B07JMYHD1N Home & Kitchen Kitchen & Dining , Kitchen & Table Linens , Potholders & Oven Mitts , Oven Mitts