If your home is feeling a little too drab and dreary, bring in the brightness of spring with our charming collection of spring decor ideas. These pieces add a touch of whimsy and lighthearted fun to any room, making it the perfect place to relax and rejuvenate.
The arrival of spring brings the hope of new beginnings, warmer weather, and plenty of outdoor activities. It's also a great time to freshen up your home to make it feel as if the new season has arrived.
On that note, today's article will showcase various home decoration ideas for the spring season. From colorful flowers to sweet treats, we've got you covered.
Best Spring Home Decor Ideas
Without further ado, let's take a look at some of the best ways to welcome spring into your home:
1. Printable Wall Art – Welcome Spring Quotes
Printables are a great way to go whenever you want to create wall decor but lack the supplies and time to make something from scratch.
This simple project from Crafting on the Fly takes just minutes to complete and features some beautiful spring quotes that will help you get in the mood for the season.
Supplies:
You can choose one of the four quotes provided by the original authors or find one that speaks to you specifically. Either way, this is a quick and easy way to add some spring decor to your home.
Download a template, print it on high-quality glossy paper, frame the paper sheet, and hang it on a wall or along a hallway.
Alternatively, you can print these quotes on vinyl, use a vinyl cutting machine to cut them out, and then adhere them to wood, canvas, or directly on the wall for a more permanent solution.
2. DIY Concrete Letters – Spring Welcome Sign
If gluing stickers or hanging quotes on your walls seems too cheesy, you could try something that screams durability.
For instance, you can make DIY concrete letters to spell out quotes about beauty, flowers, or sunshine.
Supplies:
DIY fine particle cement
A pair of scissors
A paintbrush
Cardboard
Hot glue
Water
A plate
A spoon
Sandpaper
Acrylic paint
Admittedly, this craft is among the most tedious here – not because you need expert skills, but because you have to wait for the cement to dry in between steps.
3. Wine Cork Monograms – Spring Decorations
If working with cement seems too messy for you, we have a simpler and faster project that looks just as beautiful: wine cork monograms.
Supplies:
Corks
A paintbrush
Hot glue gun
Letter printout
Acrylic craft paint
You can make entire quotes using wine corks, but you'll need to work with many corks and a lot of glue. Remember that you have to be careful with maneuvering this decor piece since it's fragile.
4. Wine Cork Butterfly Decor – Spring Decorating Ideas
Here's another cool idea that requires your leftover wine corks: wine cork butterfly decor.
This craft is just as fun and easy to make as the last. But since you'll be designing a butterfly, you have more freedom choosing colors and patterns.
Supplies:
Wine corks
Cardboard
Silk ribbon
A glue gun
A paintbrush
A regular knife
A pair of scissors
A folding utility knife
Colored acrylic paint
One advantage that this butterfly has over the monogram is that it's a bit sturdier due to its shape.
5. Paper Flowers – DIY Spring Wreath Ideas
You probably think of autumn or winter whenever you hear the word wreath, but never spring.
However, our paper flower wreath is the perfect way to change that perception and add a cheerful pop of color to your door. And you can have your kids join in to help.
Supplies:
Colored paper (we used blue, green, pink, and yellow)
A pair of scissors
A glue gun
Silk ribbon
Cardboard
A pencil
Unlike other DIY wreath ideas where you need to use styrofoam or a wire wreath form as the base, you can cheap out and use a homemade cardboard form.
Start by tracing a circular shape onto the cardboard and then cut it out. You should now have a piece of cardboard in the shape of a ring.
6. DIY Rustic Spring Flower Pots
Everyone talks about how spring is that time of the year when all flowers start blooming. But few ever consider that even the flower pot can be a part of the decoration.
This is why we've decided to show you how to make DIY rustic painted pots that will add a touch of nature to any room in your house or even your front porch.
Supplies:
Colored acrylic paint
A pair of scissors
A paintbrush
Hemp twine
A glue gun
A sponge
Clay pot
A stencil
As you can see from the image above, the result looks much better than the original clay pot, especially with that twine wrapped around it and that golden design.
Of course, you're free to customize your pots however you want when it comes to colors, stencil designs, and other aspects.
Since inspirational quotes are so popular this year, go ahead and make stencils with all kinds of spring-specific quotes that you can paint on the pots.
7. DIY Concrete Flower Stand – Outdoor Spring Decorations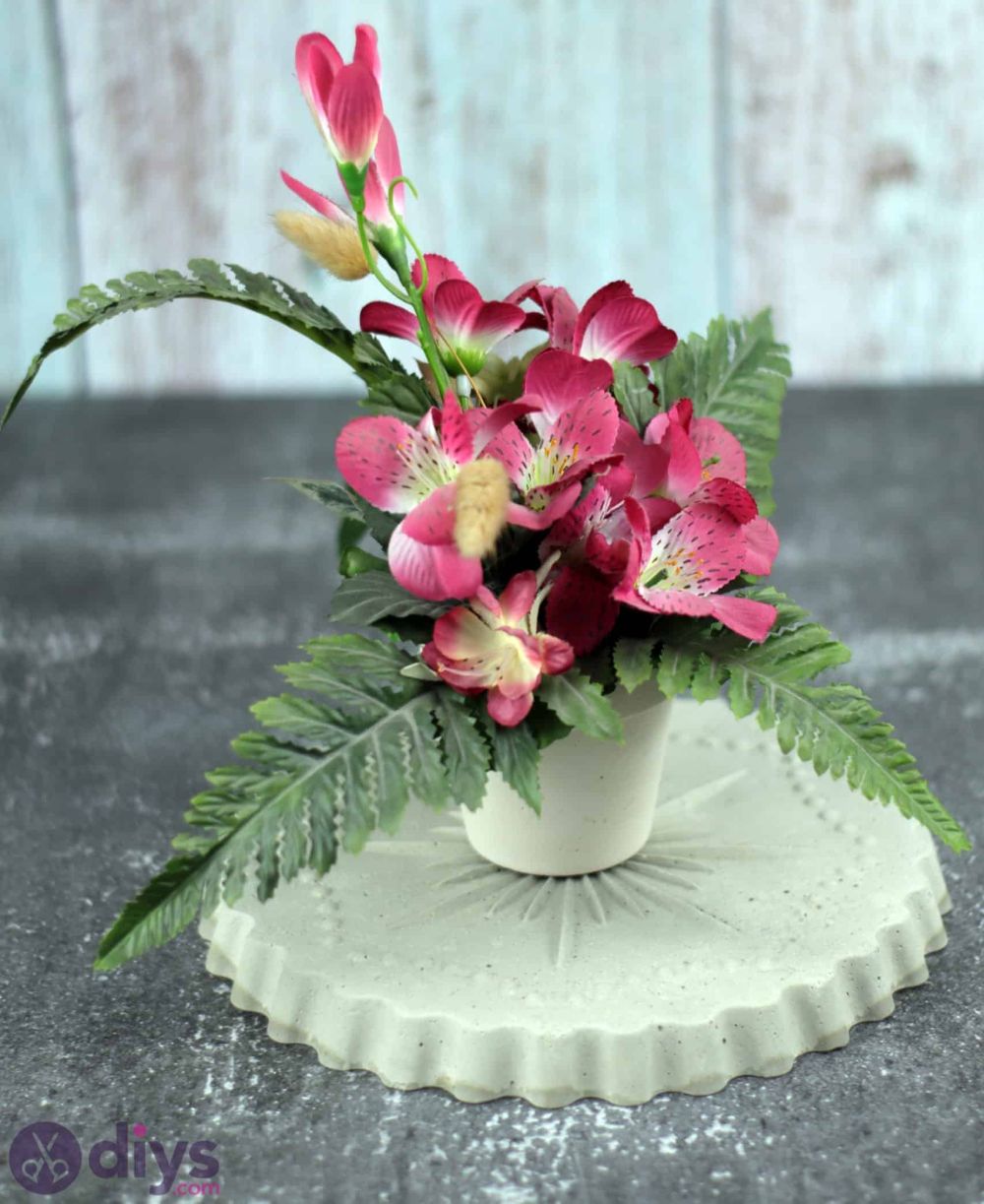 If you like the idea of flower pots in the spotlight, we'll continue this trend and present another cool idea: a DIY concrete flower stand.
We had loads of fun making this one, especially since it felt like making pudding and pouring it into molds. So we're sure you will like crafting this too.
Supplies:
DIY fine particle cement
A pair of scissors
A silicone form
A paintbrush
A spoon
Water
Oil
It's all about making the cement mixture, pouring it inside the silicone mold, and letting it dry, resulting in an intricate cement flower coaster. Take our advice: use the fanciest silicone mold you can find.
8. Spring Felt Flower Wall Art
There's something about fuzzy felt that makes it quite popular for home crafting ideas. And that's precisely why felt is a core component of this entry: felt flower wall art.
Supplies:
Denim or another textile you have at hand
A large piece of cardboard
A pompom ribbon
A pair of scissors
Colored felt
A silk ribbon
A glue gun
A pencil
The flowers are colorful and vibrant, and they manage to brighten up any wall. Plus, the petals are arranged in a way that makes the flower seem to be an optical illusion.
Besides, the use of denim gives the wall decor a more rustic look.
9. 3D Paper Flower for Spring
Working with cement and felt and other such materials can be very fun.
But if you have only colored paper and other similar supplies at your disposal, you'll need to get more creative. For instance, you can make 3D paper flowers.
Supplies:
Green crepe paper
A wooden skewer
A pair of scissors
Pink pipe cleaner
A glue stick
Pink paper
You only need a few minutes to make one. So, within a few hours, you'll be able to decorate your entire house with these paper flowers.
10. Spring Art with 3D Flowers
3D effects are an easy way of making your art look more interesting. And that's why we've decided to include another project that uses this technique: 3D flower artwork.
Supplies:
A shadow box frame
Colored cardstock
White cardstock 
Flower stencil
Craft knife
Cutting mat
This artwork is nothing more than a shadow box where the flower's petal cutouts give off a 3D effect. We've used a simple daisy flower stencil for our project, but you could use lilies, daffodils, or anything else – you just need the right stencils.
11. Mason Jar Flower Vase – Spring Decorations for Home
Make your floral arrangements a little special this spring by using a mason jar as a flower vase. Just grab a mason jar, fill it with water, and add flowers to recreate the look. You can also create mason jar centerpieces.
12. Colorful Tufted Spring Pillows
Add some brightly colored whimsey to a sofa, chair, or bench by making a set of these lovely button-tufted pillows. The more colors you use, the more it will remind you of springtime. Head over to Sugar & Cloth to find out exactly how to sew and assemble these fabulous pillows.
13. Air Plant Wreath – Spring Door Decorations
Welcome guests as soon as they walk through the front door using this simple spring wreath made out of branches, moss, and versatile air plants (also known as Tillandsia). Make your way over to Calypte Collection to learn the ins and outs of this simple project.
14. Magnetic Planters for Daffodils
What is more reminiscent of spring than daffodils? The saturated colors and cheery shape make this bloom an exciting first sign of spring. These magnetized containers will make the perfect planters for spring's most iconic flowers. Check out the tutorial at Delineate Your Dwelling.
15. Copper White Succulent Planter
Welcome the warm weather into your space with these happy-looking little succulent planters. All you need is a roll of copper foil, some vases, and spray paint if they're not the color you want. Head over to Homey Oh My to check out the full tutorial.
16. Chalk Paint Stenciled Garden Rocks – Spring Porch Decor
Just because you used to paint rocks when you were a kid doesn't mean you can't do it again as a grownup. These rocks are surprisingly simple to make, and you don't need to be an artist. Plus, you can use them to decorate your front porch. Make your way over to Design Improvised to find out more.
17. Spring Tray Decor with Duct Tape
Believe it or not, this tray is lined with fancy floral duct tape. It will add a pretty, spring-like pop of color to any coffee table or bookshelf. Just grab a lucite tray (or an acrylic box frame if you're pinching pennies) and duct tape in the pattern of your choice. Follow the instructions from Swell Mayde.
18. Botanical Wall Art for Spring
Bring the outdoors in with this simple and clever little DIY. For this project, you will use faux flowers that look real from a distance. And they'll last a lot longer that way. Check out all the instructions at The Kipi Blog.
19. Spring Vase with Pre-Made Blocks and Sign
Welcome the new season with a set of six bud vases that spell out SPRING. You can keep the flowers in water-filled test tubes, which are available at many craft stores. And these letters are actually pre-made blocks, but you can make your own by gluing wooden letters to blocks. Get the full tutorial at Tried and True Blog. 
20. Backyard Flower Lights – Spring Living Room Decor
You can make this pretty garland using string lights and cupcake liners. Simply grab a pair of scissors and let the girls over at Inspired By This show you how to make your own set. It would look gorgeous on a back patio, deck, or even inside to spice up your living room.
21. Color-Blocked Wooden Vases – DIY Spring Decor
You can customize these color-blocked vases with your favorite spring hues. The color stripes look especially pretty on light wood, which is actually just a wooden sheet wrapped around a glass vase. Make your way over to Sarah Hearts to find out more about crafting these pretty vessels.
22. Spring Shower Curtain with Marbled Watercolors
This gorgeous wavy watercolor-look curtain is a feast for the eyes, thanks to its beautiful pastel colors and organic pattern. It's not store-bought fabric but handmade using regular latex paint and fabric medium. Go to Cuckoo 4 Design to check out the full tutorial.
23. Spring Flower Bouquet
To give a flower bouquet a different vibe, place a piece of screen on a bowl and insert the stems into different holes. Atilio has a simple tutorial for cutting the screen, so be sure to check it out.
24. Painted Paper Tray Organizer
These colorfully painted trays are the perfect receptacle for just about anything, including organizing your small items. The lovely range of colors gives them an uplifting, spring-like feeling. Use a single color as the base coat and apply your design on top. Check out the tutorial at The House That Lars Built.
25. Apothecary Jar Floral Display – Spring Dining Table Decor
Here's a fantastic idea: fill lidded apothecary jars with a couple of inches of water, trim rose stems down to about 2 inches, and place them in the water. It's a great way to decorate your dining room table. Read all about it at Tikkido.
26. Ombre Glass Vase – Spring Home Decor
Here's another unique way to dress up a clear glass vase. You just need spray paint in a cheerful color and a steady hand. Make your way over to The Crafted Life to check out the full guide.
27. DIY Flower Mirror Wall Decor with Crepe Paper
Dress up a plain old mirror with colorful accessories. Craft a handful of brightly-colored paper flowers using crepe tissue paper and attach them to a fun round mirror. If the frame isn't too pretty, paint it a happy yellow color. Find out how to make your own at Bespoke Bride.
28. DIY Wood Planter Box wth Geometric Patterns
There's nothing more spring-like than fresh green succulents in colorful geometric planters. These are made using thin pieces of wood and a variety of acrylic paints. Make your way over to Tell Love and Party to find out how to construct a few of these stunning geometric planters yourself.
29. Flower Plates for Jewelry
This dainty little jewelry dish is made with Sharpie markers if you can believe it. You'll have to dust off your drawing skills for this one. Head over to Pitter & Glink to find out exactly how to create one of these pretty little plates.
30. Pressed Flower Coasters – Spring Coffee Table Decor
These pretty coasters have a natural, botanical look to them, thanks to the pressed flowers and leaves adhered to thin wood slabs. Make your way over to The Crafted Life to check out the tutorial; resin might become your new best friend. And it's a great way to decorate your coffee table.
31. DIY Felt Flower Wall Art
Transform a bunch of felt into a bouquet of stunning flowers using this tutorial from Delia Creates, and then turn it into a gorgeous flower crown. It's like something from a fairy tale. Simply collect a variety of pieces of felt in different colors along with some wire, and you'll be well on your way.
32. DIY Macrame Hanging Planter
Turn some jersey fabric (or even an old t-shirt) into a fun, colorful macrame plant hanger by knotting fabric strips in a particular way. Head over to Brit + Co. to find out exactly how to make your own and mount it to the ceiling. Make a few for that serious wow-factor.
33. Paper Flower Garland – Decorated Front Porches for Spring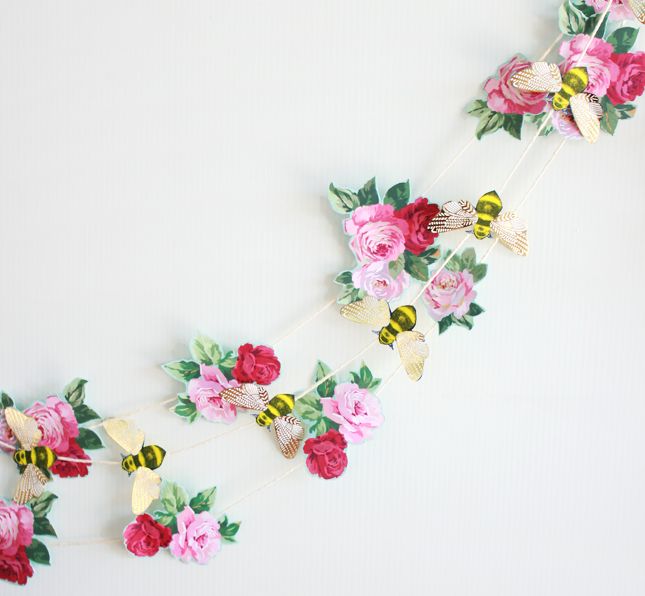 While this looks more 3D from far away, it's actually a series of cutouts from sheets of high-quality gift wrap. Just take a trip over to your local paper supply store and pick up a couple of thick sheets of floral paper. Get the full guide from High Walls. You can also use it to decorate your front porch in style.
34. Flower Monogram
Give your home a personalized feel by making one of these floral monograms. Up close you can see that the flowers are artificial, but odds are your guests won't even be able to tell from far away. Visit Adventures of a DIY Mom for more details.
35. Paint Pinecones as Zinnias
This is a clever one: transforming pinecones into faux zinnias. Just grab some paints and a handful of pinecones from your backyard. The head over to A Fanciful Twist to learn what you need to do.
36. Painted Stair Risers
Add a serious dose of color to your stairway by painting your stair risers. You can do it in different ways but, in this case, you should combine blue hues to create a fresh, bright focal point. Find out how to achieve this look in your own home from This Old House.
37. Multicolored Chairs – Spring Kitchen Decor Ideas
This DIY is easy to do and really packs a punch. You can transform your kitchen into a colorful haven using various spray paint colors. Check out The Design Files for more details about this unique, colorful abode.
38. Giant Tissue Paper Flowers – Spring Decorations for Office
Here's another way to add wow-factor to any room in your home: adorn a wall with giant tissue paper flowers. Make your way over to White House Black Shutters to see how this creation managed to breathe life into a home office.
39. Free Printable for Spring Wall Decor
Welcome spring literally with this Hello, spring wall art. It's available as a free download over at Happiness is Homemade. Just print it out on cardstock and frame it to make a colorful addition to your wall.
40. Rainbow Floor Mat – Front Porch Spring Decorations
Spring is also a time for rain and mud, so you can prevent dirt from getting inside your home using a rainbow floor mat. You can make one with wood and paint it in cheerful colors. Besides, you can easily clean the mat with a water hose. It's also an excellent idea for decorating your front porch. Visit Lowes for more info.
41. Cherry Blossom Centerpiece – Spring Table Decoration
This beautiful cherry blossom centerpiece looks surprisingly real. But it's actually made from tissue paper and branches, making it durable. Visit InStyle Magazine to discover how to fashion these adorable little buds and create a stunning bouquet for your table.
42. DIY Ladder Shelf Decor
This ladder shelf would be perfect for holding potted herbs on the deck or even houseplants inside. The thorough tutorial at Making It in the Mountains guides you every step of the way. So feel free to check it out and create this piece from scratch using power tools and paint.
43. Lemon Candle with Beeswax
Give your home a lemon fresh scent using these charming yellow beeswax candles. They're easy to make and lend an oh-so-lovely aroma to any room in the house. Make your way over to A Pumpkin and A Princess to find out exactly how to mix up a batch of lemon beeswax.
44. DIY Robin's Nest – Spring Home Decor
These gorgeous robbin eggs are actually dyed hard-boiled eggs with specks of gold paint. And the coolest part is that they're dyed naturally using cabbage. Check out Honestly Yum for more info.
45. Festive Sign – Spring Mantel Decor
Here we have another project that uses faux flowers – this time, as a backdrop for the word SPRING spelled out with large white letters. Talk about a showstopper, right? Visit A Beautiful Mess to make your own spring sign for your mantel or wall.
46. Forced Bulbs Indoors
While your garden may not be blooming quite yet, you can force bulbs to grow in a vase of water. Simply grab some tulip bulbs (or any other common type of spring flower) and go to Sand and Sisal for complete instructions.
47. Fabric Bunting – Spring Decor Ideas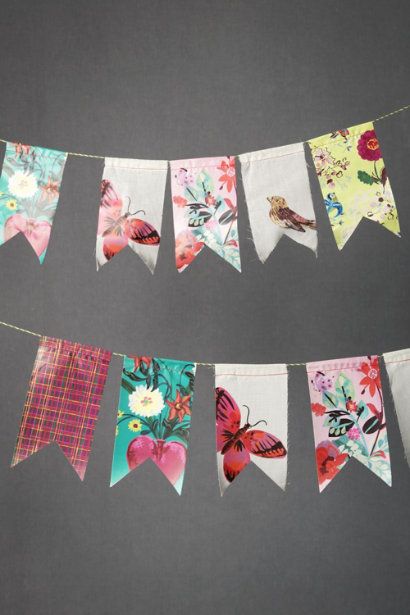 This pretty spring-like fabric bunting from BHLDN doesn't come with a tutorial, but it's easy to figure out. Cut a dozen of these flag shapes, sew the tops, and string them on a piece of yarn.
48. Colored Glass Vases with Stripes
These pretty little clear glass jars are embellished with stripes in spring-like colors using rubber bands, painter's tape, and aluminum foil to mask the clear parts. Visit Pottery Barn for more info.
49. DIY Orange Candle with Mint
These easy candles are gorgeous in their simplicity, and they are easy to create as well. You can make them with coconut wax and essential oils to create a sweet aroma that will freshen up your home after a long cold winter. Check out Sprinkles in Springs for more details.
50. Yarn Wall Hanging
Add some serious color to your walls with one (or six) of these stunning wall hangings. In addition to sprucing up your space, you can use any leftover yarn from your past crafting projects. Creative Bug guides you every step of the way.
51. Spray Painted Bookshelf Ideas
If you're a big reader, odds are you have an impressive bookshelf in your house. Since it's a piece of furniture that you can easily paint, don't hesitate from giving it a new paint job to welcome spring to your home. Check out Flickr for more inspiration.
52. Indoor Plant Trellis
Houseplants are a fantastic way to bring the outdoors in, and this plant trellis is a unique way to display plants. It won't use up any floor space either, making it great for small apartments. SeeeVintage Revivals for more details.
53. Produce Rack – Farmhouse Spring Decor
Store produce correctly by putting fruits and veggies like bananas, potatoes, and tomatoes in wire racks on the wall. We borrowed this idea from New Decorating Ideas.
54. New Kitchen Cabinet Colors
Add a secret pop of color to your kitchen by painting the insides of your cabinets a bright hue. It's an unexpected way to add some pizzazz to your space without going overboard. See the rest of this kitchen at A Beautiful Mess.
55. DIY Floating Shelf Decor Ideas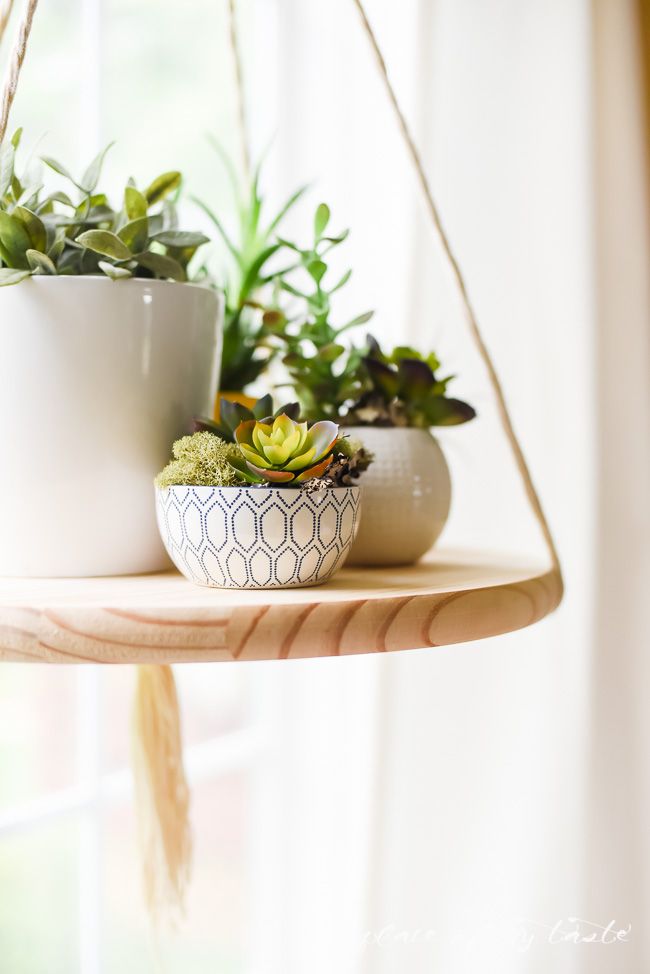 Here's another great way to display houseplants without taking up any floor space. Buy rope and a round piece of wood from your local home improvement store, and you'll be ready to make one of these pretty hanging plant shelves. Get instructions from Place of My Taste.
56. Wall-Mounted DIY Mason Jar Vase Ideas
These stunning wall-mounted vases are easy to construct using mason jars, leather, and wood. They make for a unique floral display on your wall, giving your friends something to ooh and ahh over when they stop by. Make your way over to Shelterness to find out how to make your own.
57. Paper Fan Garland – Spring Classroom Decorations
Decorate your walls with a pretty paper fan garland using bright spring colors. You can customize them to coordinate with your home, too. It's also an excellent idea for decorating classrooms. Visit Craftaholics Anonymous to get all details.
58. DIY Paper Plant Design
If you have a brown thumb, paper plants are another fun way to incorporate greenery into your home this spring. The great thing about these paper plants is that they will never die. Head over to The House That Lars Built for more details.
59. Tulip Wreath – Spring Front Door Decor
Dress up the front of your house by making one of these incredibly gorgeous tulip wreaths. Tulips are the quintessential spring flower, and you can cluster them around a spring wreath form to create a beautiful piece for your door. And don't forget the contrasting striped ribbon. Check out the tutorial at Smart School House.
60. Wall-Mounted DIY Air Plant Holder Ideas
These gorgeous air plant holders, called trapezes, are a different way to display your little plants. And they're easy to make, too. You'll need air plants, scrap wood, and suede or leather cord. Make your way over to the Sunset for the complete instructions.
Final Thoughts on Spring Decor Ideas
This concludes our roundup of the best spring decor ideas that we could find, and we hope you've found at least a few projects that you'll be keen on trying out.
What are your favorite picks? Let us know in the comment section below.
The post Spring Decor Ideas: 60 Ways to Welcome the New Season into Your Home appeared first on DIYs.com.