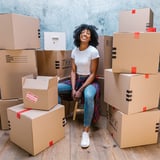 The time has come: you're moving into your first apartment! I'm thrilled for you, but I'd be lying if I said moving is a breeze. As someone who has moved numerous times (including coast to coast) in their 20-something years of life, I've become quite familiar with the process of packing and unpacking, as well as remembering what items are needed for a kitchen, bathroom, bedroom, and living room upon arrival. There are a lot of things you don't realize you need until it's too late, especially when you throw in miscellaneous items like first-aid kits and toolboxes (especially if these things were provided for you in your childhood home or college dorm).
The goal is to avoid the avoidable. Case in point: my ex-boyfriend's first college apartment - his bed rested on the ground, his kitchen had no dish detergent, and his bathroom skimped on hand soap. (This wasn't just a move-in-day issue, by the way.) You deserve a fully stocked apartment starting night one, and the key to a smooth moving experience is to be prepared. Ahead, find the ultimate first-apartment checklist - organized by room - with all the items needed for your move-in day. You don't need everything on this list, of course, but it's a helpful guide to get you going. Screenshot it to take with you on the go. (Psst . . . this doesn't include furniture; I'm assuming you have that covered.)
First-Apartment Checklist: Kitchen
Pots, pans, dishes, linens . . . and that's just the start. The kitchen has a lot to unpack (literally), so prepare for a big trip to your local department store.
Cleaning Supplies
Hand soap
Dish soap
All-purpose cleaner
Sponges
Dishwasher pods
Paper towels (and a holder)
Trash bags
Trash can
Mop
Broom and dustpan
Glass cleaner
Bleach
Cookware
Pots and pans
Baking sheet
Cooking sheet
Strainer
Mixing bowls
Measuring cups
Casserole dish
Utensils
Silverware (spoons, forks, and knives)
Cutting knives
Silverware organizer
Cups
Mugs
Cooking utensils (spatula, tongs, serving spoon, etc.)
Tools
Drying rack
Cutting board
Can opener
Bottle opener
Food storage containers
Aluminum foil
Plastic wrap
Oven mitts
Chip clips
Corkscrew
Appliances
Microwave
Toaster
Coffee maker
Air fryer
Blender
Slow cooker
Water filter
First-Apartment Checklist: Laundry
If you're lucky enough to have an in-unit laundry, pat yourself on the back - that's huge. If not, you'll still need the following essentials - like detergent and dryer sheets - to get you through. For off-site and shared laundry spaces, I recommend a hamper with straps or handles to make lugging clothes around easier.
Hamper
Laundry detergent
Dryer sheets
Stain remover
First-Apartment Checklist: Bathroom
The bathroom is unavoidable and should therefore be stocked with all the essentials you need. From a trash can to hand soap to bath mats and more, you don't want to forget a dang thing when it comes to your bathroom.
Trash can
Hand towels
Body towels
Plunger
Toilet paper and holder
Hand soap
Window treatments
Small trash bags
Bath mat
Toiletries (shampoo, conditioner, soap, toothbrush, etc.)
Toilet bowl cleaner and brush
First-Apartment Checklist: Bedroom
Besides the side tables, mattress, and dresser, there are a whole lot of other things that go into a bedroom. From window treatments that'll keep it nice and dark to pillowcases that make your bed ultra-cozy, peep the items you need for a comfortable 365 days of sleep.
Mirror (full-length or otherwise)
Hangers
Bed frame and boxspring
Pillows
Bed linens
Window treatments
First-Apartment Checklist: Living Room
I won't tell you how to decorate your home, but I'll make suggestions for a few key items - like rugs and throw blankets - that will make your first few nights as comfy as possible.
Decor
Rug
Window treatments
Throw blankets
Technology
Vacuum cleaner
TV
Extension cords, power strips, or surge protectors
HDMI cable
First-Apartment Checklist: Safety
Accidents happen, both during moves and in day-to-day life. If you happen to cut your finger while cooking or burn yourself on a hot pan, having these items within reach will ensure you're taken care of.
First aid kit
Flashlight
Matches or lighter
First-Apartment Checklist: Extras
Just as every kitchen has a "junk drawer," there are always misfit items that belong . . . somewhere in your apartment. Here are the extra things you 100-percent need, although it's up to you to decide where to keep them.
Tape
Tool kit
Removable wall hooks or nails
Iron and ironing board
Light bulbs
Batteries
Scissors