ALDI Finds for the week of 2/23/22 include donut bars, Italian Week, shepherd's pie, and so much more. Check them all out below, and let me know what you want to Find this week!
Do-nut snooze on the frozen desserts at ALDI this week: Start your search for tasty treats with these Sundae Shoppe donut dessert bars, available in vanilla/chocolate or strawberry flavors at $2.99 a box.
If those don't float your boat, you might enjoy Specially Selected Italian ice cream cups, available in a pack of two for $3.79. Or, you can pick up a 28.5 oz tub of gelato for $3.99 — both of these, of course, among the Italian Week sales in this week's ad. (More Italian Week Finds below.)
Note that both advertised and unadvertised ALDI prices can vary by store and by region. But now, let's talk about the rest of the top ALDI Finds for the week of 2/23/22. You'll also Find some on 2/20/22 in Sunday ad markets, or if your store tends to put products out early.
Top ALDI Finds of the week
In no particular order, here are 10 more of my top ALDI food Finds (plus some bakery bread and… Italian week!), plus, 25 top non-food Finds for this last week of February, 2022.
Please pardon just a brief detour through the bakery section first, though: This everything bagel sourdough bread accidentally jumped in my cart, so we'll see if it's as good as it looks. Your own Specially Selected everything sourdough loaf will run you $3.49 this week.
These Specially Selected cristal buns also look interesting, yet expensive, at $2.99 for this little pack. (If you try these, let us know how they are!)
Top ten food Finds this week
Here are ten more interesting food Finds for your week:
Clancy's cheddar jalapeño or wasabi soy popcorn, $1.99
Parkview Irish style bangers in original or ale & onion, $3.89
Park Street Deli shepherd's pie, $6.99
In Real Life Foods spicy chicken or miso veggie ramen kit, $4.49
Screamin' Sicilian mother of meat pizza, $5.98
Season's Choice potatoes & green beans in rosemary or garden medley, $1.99
Fremont Fish Market fish cakes, $2.49
Cattlemen's Ranch corned beef points, $2.99/lb
Southern Grove dried mango multipack, $3.89
Clancy's pizza flavored pita puffs, $1.99
(In the past, corned beef points have gone as low as $1.99/lb before St. Patrick's Day — but I'm not sure that will happen this year, given the price increases on meat.)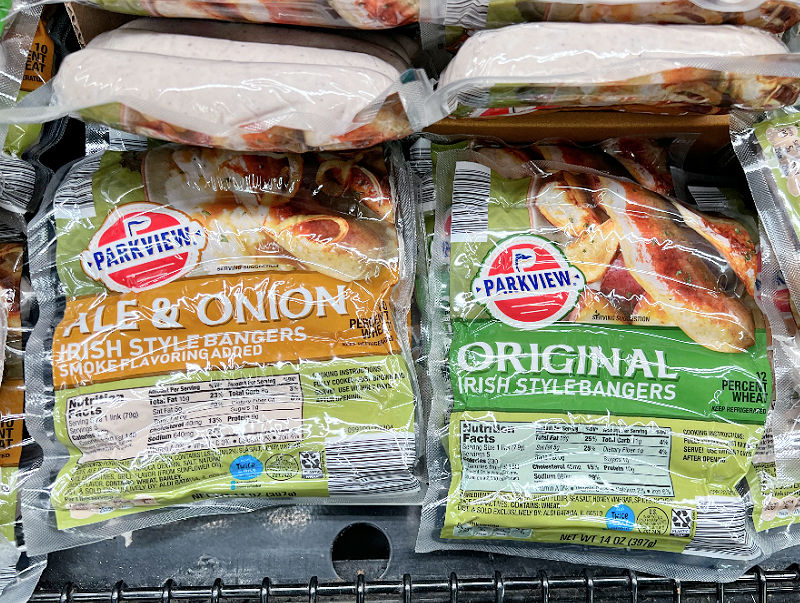 Speaking of price increases on meat, their Irish style bangers are up in cost this year too; now $3.89 a package (as opposed to $3.19 in 2021).
Oh, and I know a lot of you wait for the shepherd's pie to show up again — so, take this opportunity to stock your freezer with an easy meal.
Italian Week Finds
In addition to the tubs of gelato and the two packs of Italian ice cream cup treats, you'll see a number of other Italian Week Finds in this week's ad. One of my personal faves is always this Priano potato, spinach, or whole wheat gnocchi, at $1.69 per 17.6 oz package.
You might want to use your gnocchi, for instance, in this deliciously different recipe for sheet pan gnocchi with sausage + veggies.
You'll see no shortage of other pastas this week, either. Choose from:
17.64 oz Specially Selected ribbon noodles, $2.49
16 oz Priano long bronze cut pasta, $1.29
6.5 oz Specially Selected gourmet tortellini, $2.99
16 oz Priano bronze cut bucatini, $1.49
16 oz Specially Selected spinach, mushroom, or garden herb egg tagliatelle, $2.99
Serve your pasta of choice topped with Priano gourmet pasta sauce, which is available in primavera, arrabbiata, or Italian sausage at $1.89 per 24 oz jar.
And speaking of sauce, Cook House Italian simmer sauces might make for an easy dinner. Choose marsala, piccata, or scampi: $2.99 per 15.5-16 oz jar.
While you're in the pantry Finds, check out these Specially Selected pancetta & parmesan or balsamic vinegar & rosemary kettle chips ($1.99 a bag), as well as Priano glazed puff pastries for $1.99.
Oh, while you're scoping out that gelato in the freezer section, you might also run across a box of veal patties to serve with your pasta. These are priced at $9.99 for a 27 oz box, which includes nine 3 oz pieces.
Lastly, over in the deli section, Appleton Farms diced prosciutto or pancetta runs $3.49 per 4 oz package this week. (This is up from $2.99 this past fall, so another little price jump on meat here.)
Top twenty-five non-Food Finds this week
ALDI this week is selling 8″ hanging foliage plants for $8.99. I bought one of these a while back as a little 8″ plant, and above you can see how it's doing today! In the same pot and frankly semi-neglected, this hanging plant keeps going strong and growing like crazy; I can definitely recommend. Then, 25 more non-food Finds of the week include:
Huntington Home 5-pack makeup removing cloths, $6.99
Biddeford 50″x62″ heated microplush throw, $24.99
Huntington Home 2 piece chenille or faux fur bath rugs, $14.99
Easy Home warm mist humidifier, $24.99, or rechargeable cool mist humidifier, $12.99
Huntington Home 12 piece shower curtain and hook set, $12.99
Huntington Home down alternative comforter (looks like only white, in full/queen or king), $19.99
Huntington Home insulated carafe, $12.99
Huntington Home golden candle with cloche, $9.99, or ceramic candle, $6.99
SOHL acacia dip dyed stool, $39.99
Crofton 4 pack wine, cocktail, or champagne glasses, $12.99
Crofton decorated glass baking dish, $8.99
Crofton glass canister set, $14.99
Ambiano electric wine set, $19.99
Crofton 2 quart tea kettle, $13.99
Crofton stoneware pitcher, $12.99
Crofton lazy Susan or French press, $16.99
Gardenline corner tool holder $19.99
Huntington Home kitchen cabinet bin, $7.99
Easy Home digital ceramic heater, $34.99, or 360 degrees surround heater, $34.99
Gardenline bulbs, see price in store
AutoXS frost/snow windshield cover, $12.99
My Beauty Spot spa bath soak, $4.99
Heart to Tail small pet bed, $12.99
Easy Home spin mop, $24.99
Serra Ladies' winter boots, $24.99
Good prices on some of these — the down alternative comforter is a nice deal, as is the shower curtain and hook set.
I also have a set of the makeup removing cloths from an earlier sale, and they're quite nice: They're soft, they do the job, and they hold up well to washing.
What's Up with ALDI Finds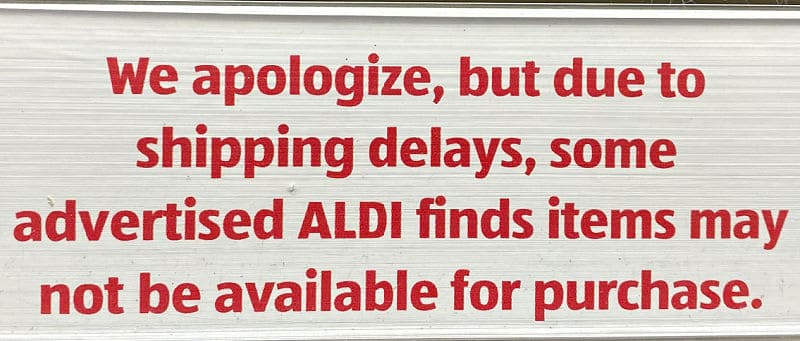 What's up with ALDI Finds? Well, these are limited time special buy items that are available in stores only while supplies last. So if you spot something you like, be sure to pick it up while you can.
Before shopping for new Finds this week, you might wish to visit the ALDI Finds product delays page. Because of ongoing shipping delays and materials shortages affecting ALDI and many other retailers, certain advertised products may not be available in all locations.
Finding the Finds
Where do you Find all of this week's special buys?
Check out the "ALDI Finds" and current weekly ad tabs (or mobile menu choices) on the ALDI site to window shop from home.
If you're planning an in-store shopping trip, use their online ad to help determine what you'll grab and purchase if you do see it in the store.
Products mentioned in this post were either spotted in store or are from the ads starting 2/20/22 in Sunday ad markets, 2/23/22 in Wednesday ad markets. What caught your eye among this week's ALDI Finds?