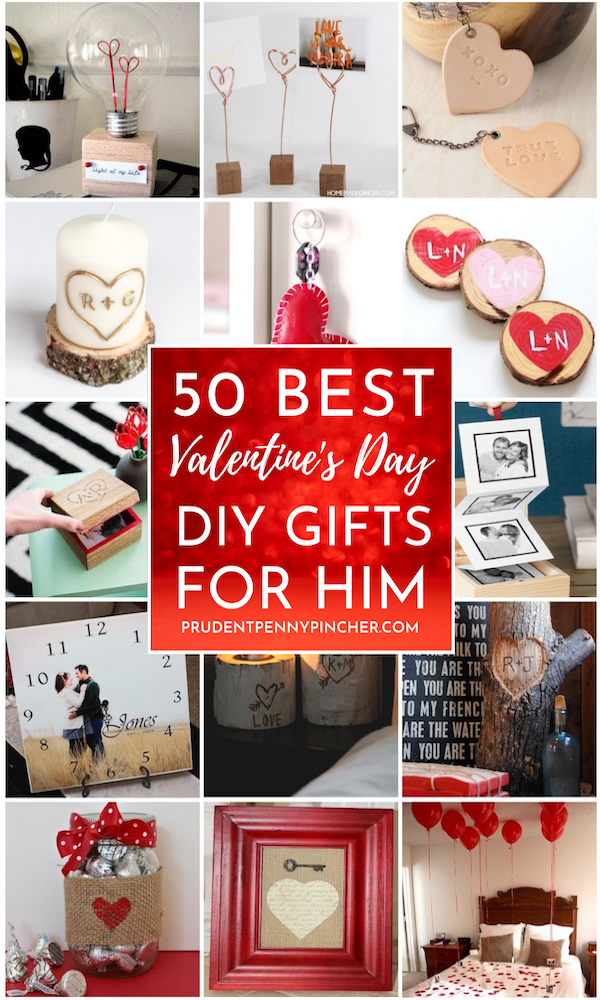 Make Valentines Day extra special with these unique, homemade Valentines Day gifts for him. These DIY ideas are affordable and thoughtful so skip the generic candy ideas and personalize your Valentines Day gifts this year!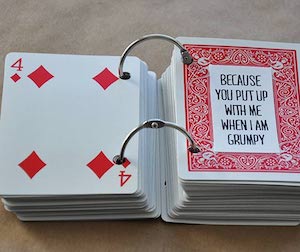 52 Things I Love About You
Playing Cards +Mod-Podge +Binder Rings +One Hole Punch +Scissors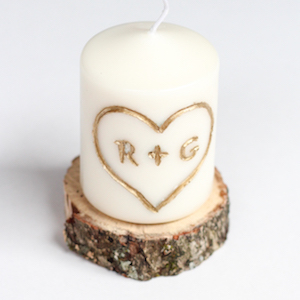 DIY Candle Carved with Initials
Candle +Linoleum Cutter +Gold Leaf Pen/Ball Point Pen +Tape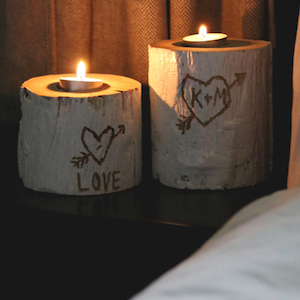 DIY Valentines Day Logs
Dry Log +Saw +Drill Bit +White Paint +Knife + Sandpaper + Candle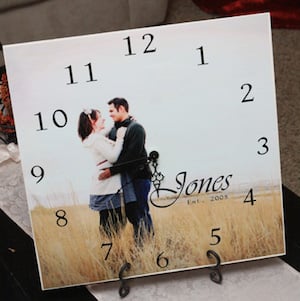 Photo Clock
photo +Mod Podge +Paint +Clock parts +MDF board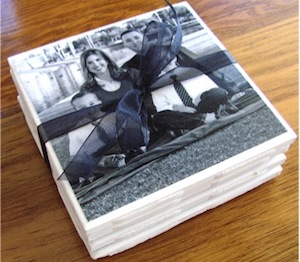 Photo Coasters
Ceramic Tiles +46 Photos +Mod Podge +Clear Acrylic Spray + Craft Paint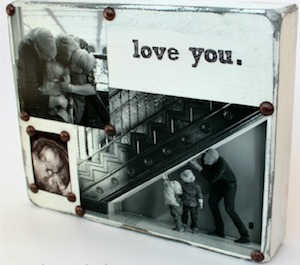 DIY Distressed Photo Block
Scrap Block Of Wood + Paint +Mod Podge + Photos +Upholstery Tacks +Sandpaper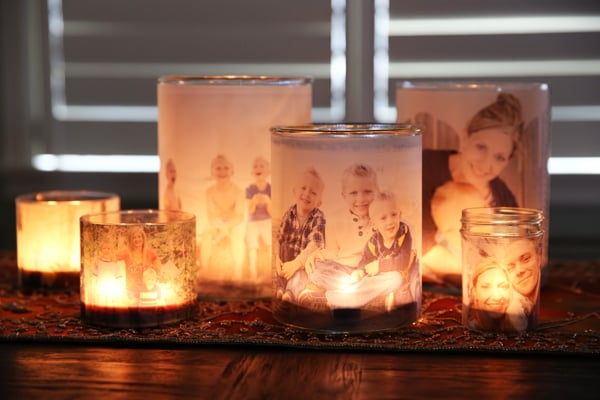 Glowing Photo Luminaries
Photos + Candle Holder(Dollar Tree) + Double Sided Tape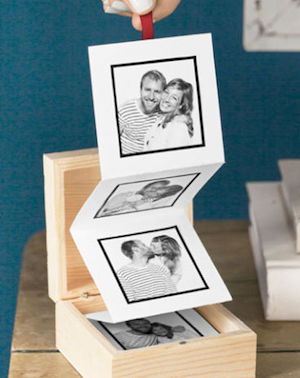 Pop-Up Photo Box
Card Stock + Wood Box + Glue Gun + Spray Mount + Ribbon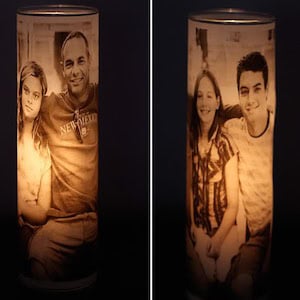 Photo Candleholder
glass candleholder +vellum paper + candle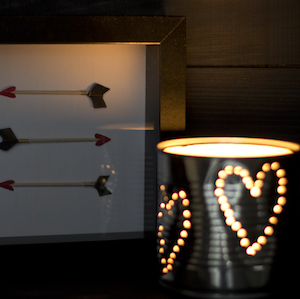 Heart Luminary
paper +scissors +empty tin +double sided tape +drill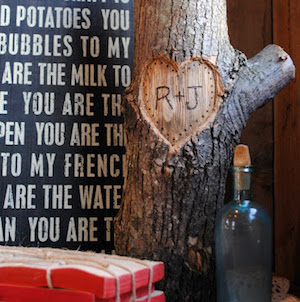 You + Me on a Tree
Log + Wood Burning Tool + Sandpaper + Utility Knife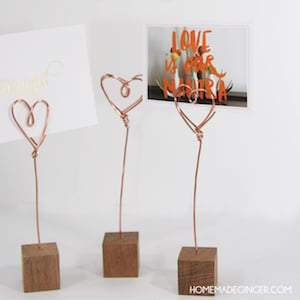 Copper Wire Photo Holders
Heavy Copper Wire +Wooden Blocks +Wire Cutters +Drill +Hot Glue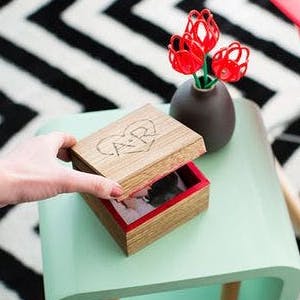 Engraved Photo Box
wood craft box +wood stain +paint +ribbon +photos +black cardstock +wood burner +double-sided tape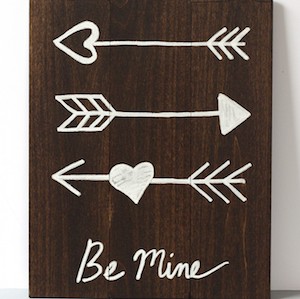 DIY Valentines Day Arrow Art
Wood Board +Sand Paper +Wood Stain +Wood Glue +White Paint Pen +Varnish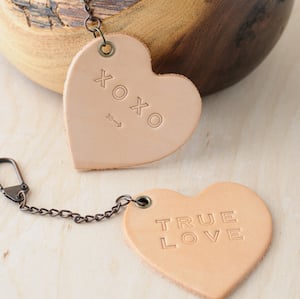 Leather Conversation Hearts
Leather Hearts + Leather Stamping Kit +Awl Hole Punch +Eyelet & Jump Ring +Chain And Key Chain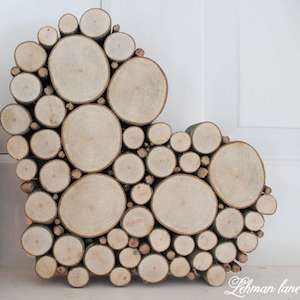 Wood Slice Heart
Miter Saw + Assorted Sticks And Branches + Glue Gun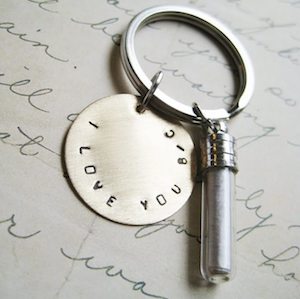 Message in a Bottle Keychain
Glass Vial +Brass Disc + Jump Rings +Key Ring +Metal Letter Stamps +E-6000 Glue +Steel Wool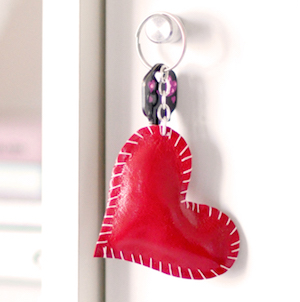 DIY Leather Heart Key Ring
Thin Leather +Key Ring +Chain+Bead Reamer +Pink Thread +Beading Pliers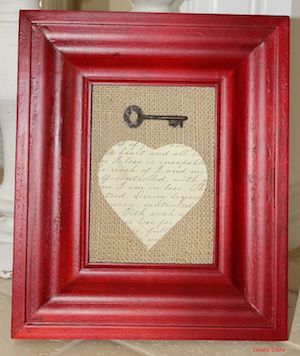 Valentine Picture Frame
Spray Adhesive + Picture Frame + Burlap + Glue Gun + Paper + Key + Red Paint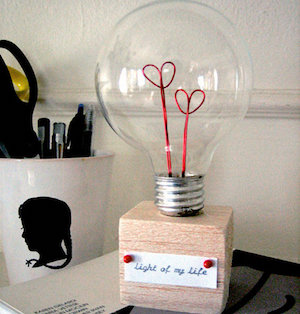 Valentine Lightbulb
Red Thin Gauge Wire + Light Bulb + Scrap Wood +2 Pins +Wire Cutters +Hot Glue Gun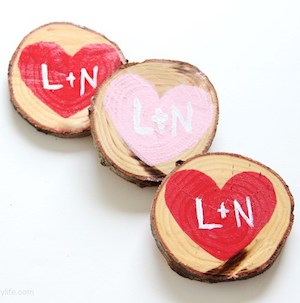 DIY Heart Coasters
Wood Log +Miter Saw +Sand Paper +Polyurethane Clear Gloss +Heart Stencil +Paint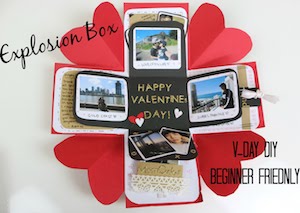 Easy DIY Exploding Box (Video Tutorial)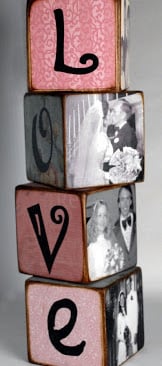 Love Letter Blocks
Blocks + Scrapbook Paper +Mod Podge +Sandpaper +Distress Ink Or Chalk +Finishing Spray+ Photo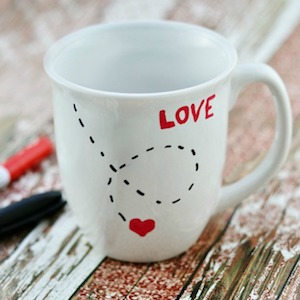 DIY Love Mug
White Ceramic Mug +Red and Black Paint Pen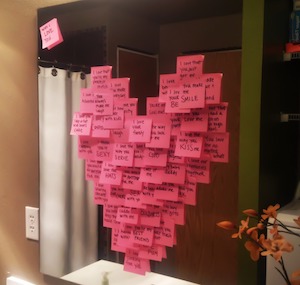 Reasons Why I Love You
All you need is a sharpie and a post-its for this cute project.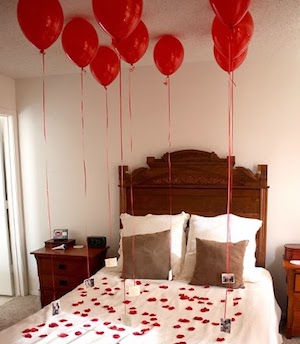 Valentines Day Balloon Display
Red Balloons + Red Curling Ribbon + Photos + Pen + Rose Petals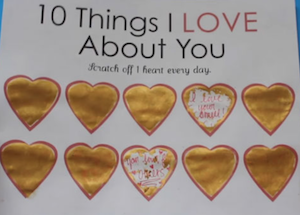 Scratch Off Hearts (Video Tutorial)
Acrylic Paint + Dish Soap + White Crayon + Paper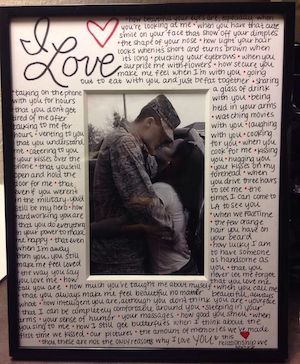 I Love Personalized Picture Frame Idea (source unknown)
picture frame + foam board + craft knife + sharpie + photo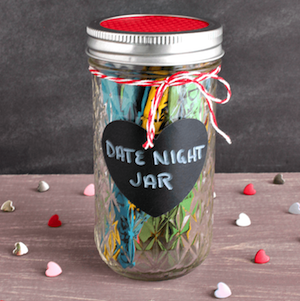 Date Night Jar
Mason Jar +Paint Pens +Ribbon +Scrapbook Paper + Paint + Popsicle Sticks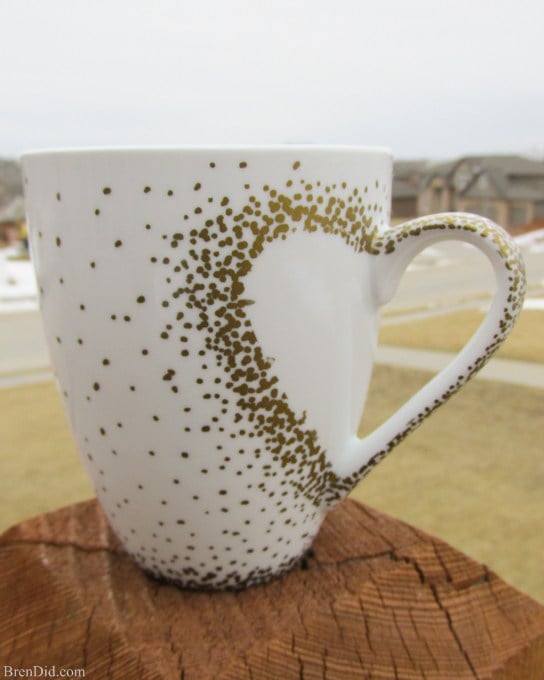 Sharpie Heart Mug
mug+Sharpie oil based paint pen + contact paper +Krylon Crystal Clear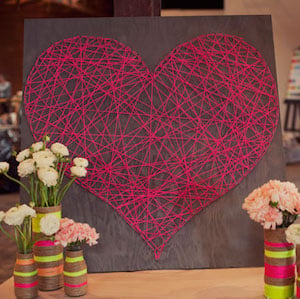 String Heart DIY
piece of wood +string +nails +spray paint +paper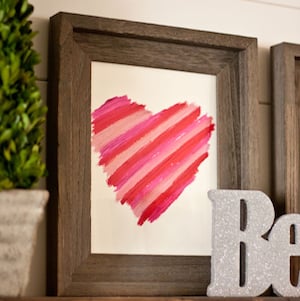 DIY Lipstick Art
pink and red lipsticks +drawing paper +810 frame +pencil +heart template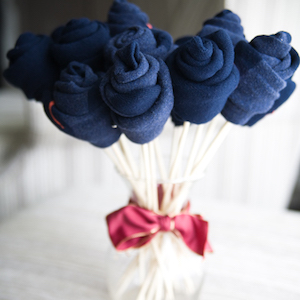 Sock Bouquet
Socks +safety pins +wooden dowels or skewers +vase +ribbon
Food & Drink Valentines Day Gifts for Him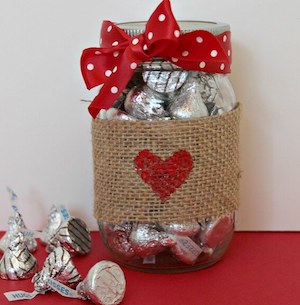 Hugs & Kisses Mason Jar Gift
Burlap Ribbon + Mason Jar + Red Acrylic Paint + Heart Stencil + Ribbon + Herseys Kisses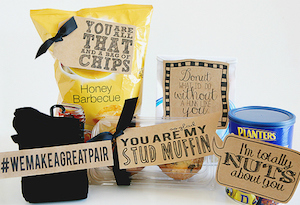 Quick & Cheesy Hubby Valentines
Brown Kraft Paper Tags + Black Sharpie + Snacks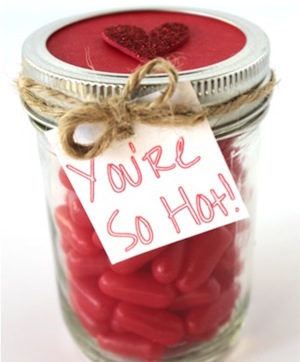 Red Hots Valentines Candy Gift in a Jar
Mason Jar + Twine + Red & White Paper + Red Hots + Foam Heart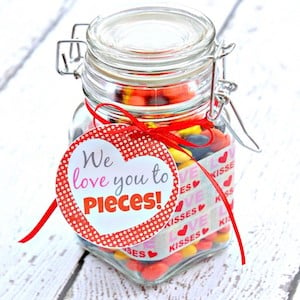 Valentines Day Gift in a Jar Idea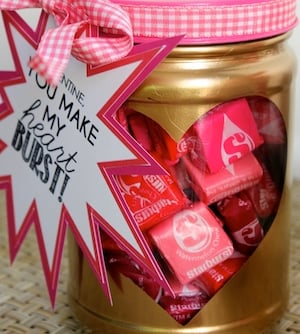 You Make my Heart Burst Jar Idea
Empty Jar + Vinyl Sticker Heart + Gold & Pink Spray Paint + Card Stock + Ribbon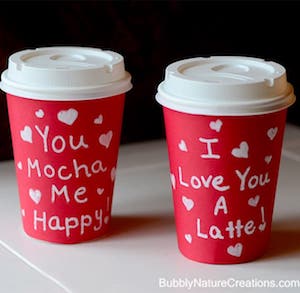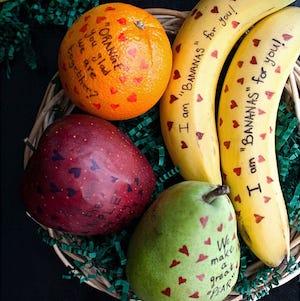 Valentines Day Fruits with Messages
Apples +Bananas +Pears +Oranges +Black Edible Marker +Red Edible Marker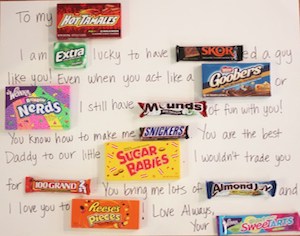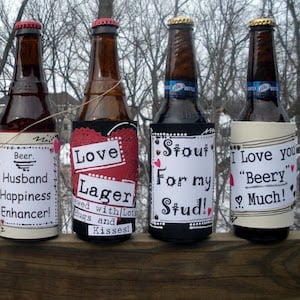 Cute Beer Messages (source unknown)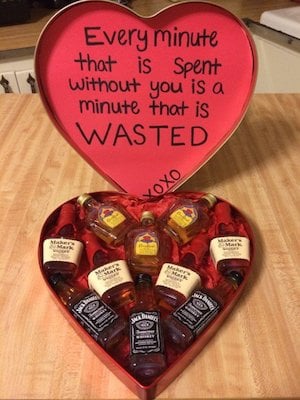 Liquor Valentines Day Gift (source unknown)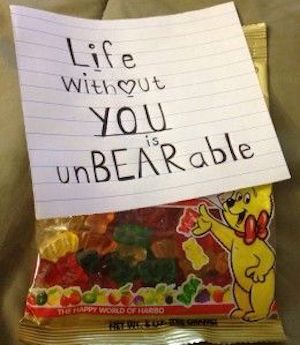 Life Without You Is UnBEARable Gummy Bears (source unknown)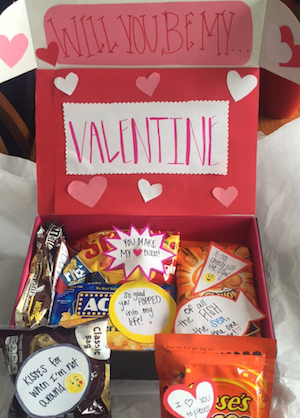 Be My Valentine Snack Idea (source unknown)
---
Related Posts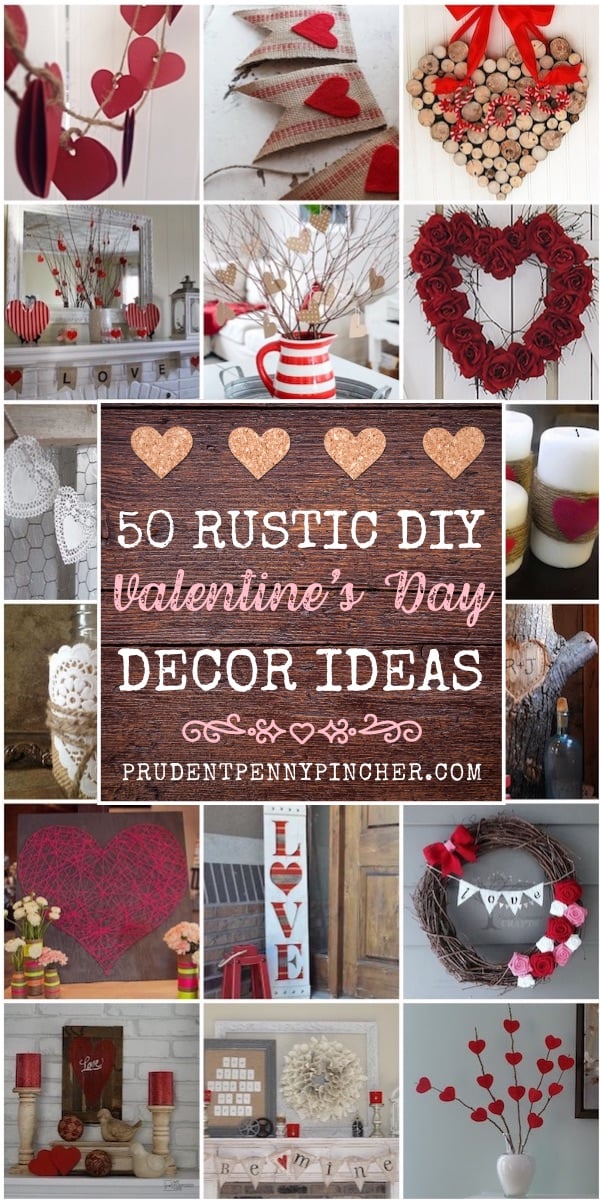 50 Rustic Valentines Day Decor Ideas
The post 50 DIY Valentines Day Gifts for Him appeared first on Prudent Penny Pincher.