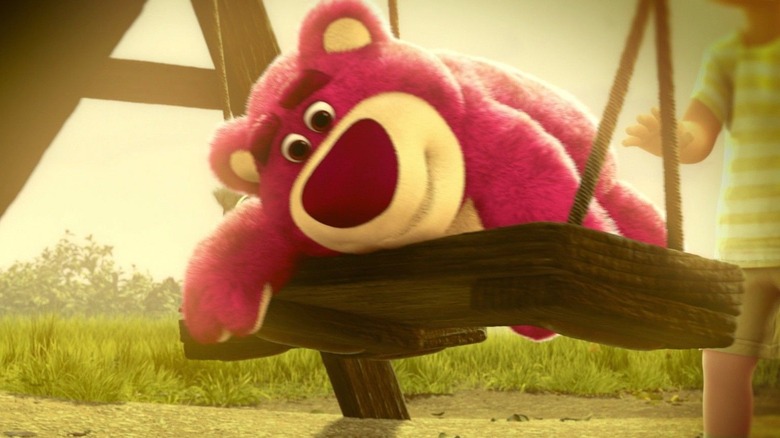 Few Disney franchises are as beloved as "Toy Story," starting with the feature film that helped launch Pixar into Hollywood history and forever changed the world of cinematic animation. In 2010, the "Toy Story" franchise looked to be coming to an end (spoiler alert: it didn't) with the release of "Toy Story 3." As a soon-to-be grown up Andy gets ready to leave for college, Woody (Tom Hanks), Buzz Lightyear (Tim Allen), Jessie (Joan Cusack), and the rest of Andy's favorite toys originally find themselves heading for a life in attic storage, when they're mistakenly brought to the curb with the trash. Fortunately, Woody manages to save the crew, only to wind up in the arms of new owner Bonnie, and the rest of the toy family donated to a local daycare center. Happily believing they'll have plenty of new kids to play with, Andy's toys soon realize that they're stuck in a chaotic petri dish of toddler terror, and it's up to Woody to save his family.
Similar to Sid in "Toy Story" and The Prospector (Kelsey Grammar) and Al McWhiggin (Wayne Knight) in "Toy Story 2," the end of the trilogy had its own Big Bad in the form of Lotso the Lots-o'-Huggin' Bear (Ned Beatty). The magenta, strawberry-scented teddy bear ruled Sunnyside Daycare like a prison warden, and due to his own unprocessed trauma of being accidentally abandoned by his owner Daisy, has grown to hate the bond between children and toys. Lotso is considered one of the cruelest villains in Pixar movie history, but his reign of terror for Disney wasn't constrained to the screen.
Lotso Lead To A Lawsuit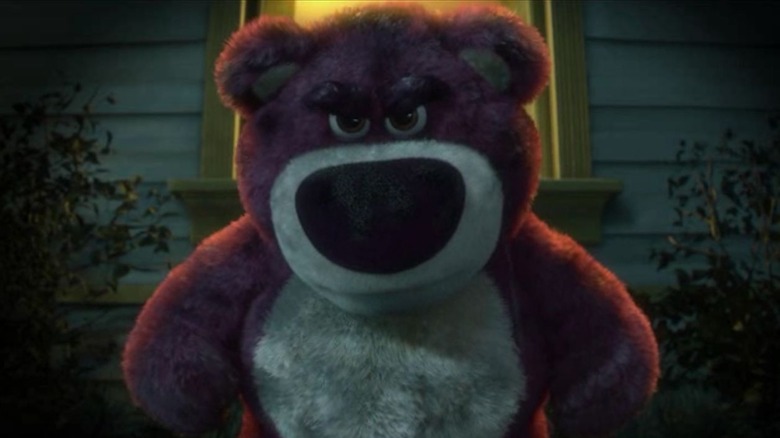 "Toy Story" frequently makes references to popular, real-life toys like Barbie and Ken, Mr. Potato Head, and the Etch-a-Sketch, but for the most part, the toys are unique to Pixar and were merely inspired by real life toys. Instead of blowing up a G.I. Joe in "Toy Story," Sid destroys a Combat Carl. When making announcements, Woody utilizes Mr. Spell, a clear nod to the Speak and Spell. So what does this have to do with Lots-o'-Huggin' Bear? Well, the toy company Diece-Lisa Industries took Disney to court over the bear, believing that Disney was inspired by its patented "Lots of Hugs" line of bear toys. 
While it would be easy to rule this as a coincidence, Diece-Lisa had previously licensed their "hugging technology" to The Jim Henson Company to use in the Playhouse Disney show "Bear in the Big Blue House." It just so happens that Disney owns The Jim Henson Company. 
"Toy Story 3" made over $1 billion at the box office, an estimated additional $7 billion in merchandising. Diece-Lisa asserted that they were forced to rebrand their bears as "Hugalots" to avoid brand confusion and that Disney willfully infringed on their "Lots of Hugs" trademark without the license or authority of the toymaker. At one point they tried to counter, but a judge knocked it down. As of publication, Diece-Lisa and Disney have yet to have come to an agreement.
Diece-Lisa Took A Massive Risk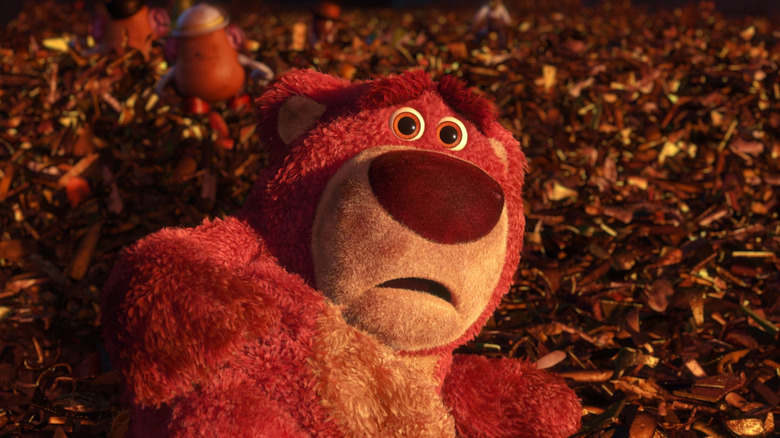 Outside of big tech companies like Facebook Meta, there's no corporation in the world with more power and influence than Disney. Diece-Lisa's pursuit regarding the legal status of the Lots-o'-Huggin' Bear/Lots of Hugs Bear is the real life equivalent of the "Zanzibar!" episode of "Rocko's Modern Life," which includes a full song-and-dance number about how "You Can't Fight City Hall." Diece-Lisa is not a major toy company like Hasbro, Mattel, Fisher-Price, or LEGO — they're a small, independent company. No shade to the webmaster, but the official "Lots of Hugs" website looks like something that was made in the early 2000s using a Geocities or Angelfire website builder. So taking on Disney like that takes real courage. 
There hasn't been much movement on the case since 2019, but it's worth paying attention to because this is an absolute David and Goliath story. The fact a judge has ruled that Disney cannot block their lawsuit is a huge win for the little guys, and it proves that not even a company as dominant as the House of Mouse is free from legal accountability.
Read this next: The 14 Best Animated Movies (That Aren't Made By Disney Or Pixar)
The post The Reason Disney Was Sued Over Toy Story 3's Lots-o'-Huggin' Bear appeared first on /Film.