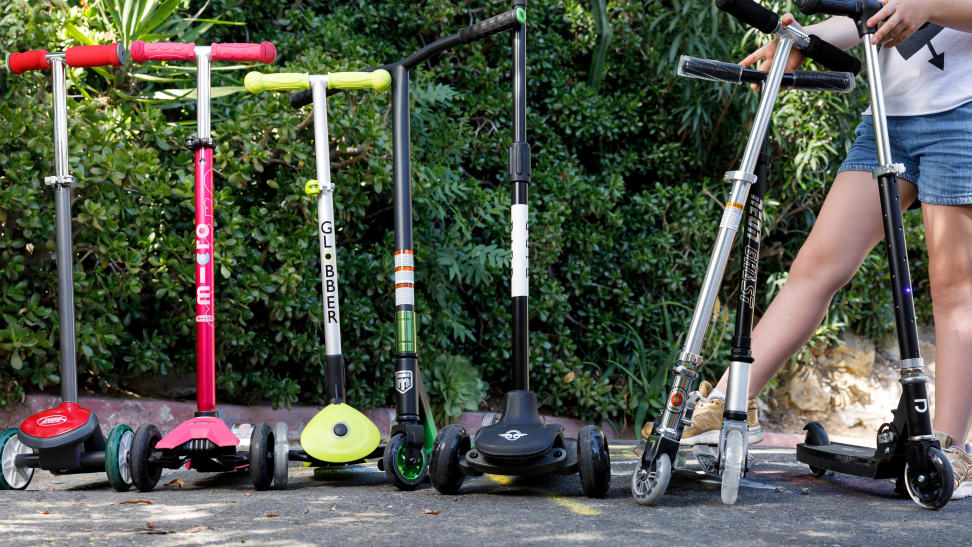 — Recommendations are independently chosen by Reviewed's editors. Purchases you make through our links may earn us a commission.
My two kids are in full pandemic mode, with camp non-existent, parks closed, playdates off-limit—you know the drill. One of the few ways they can get exercise is by scootering around the neighborhood. With an abundance of time on our hands, and a propensity for scooting, we tested out nine different kick scooter models. Along the way I learned the basics (like two-wheels vs. three-wheels) and the mundane (polyurethane vs. plastic wheels). I also injured my ankles quite a few times while riding along on my own personal electric scooter (which is a Razor Power A2, if you're interested).
After miles of rides around our Los Angeles neighborhood, I can say without hesitation that the best three-wheel scooter is the Micro Kickboard Maxi Deluxe LED (available at Amazon) and our top pick for the best two-wheel scooter is the Jetson Jupiter (available at Amazon).
Here are the best three-wheel scooters we tested, ranked in order:
Micro Kickboard Maxi Deluxe LED
Globber Elite Deluxe Lights
Bird Birdie
Radio Flyer EZ Glider
Here are the best two-wheel scooters we tested, ranked in order:
Jetson Jupiter
Y-volution Neon Ghost
Razor Original A
Fuzion X-3
Mongoose Rise Pro 100
How We Tested
The Tester
I'm Lindsey Hunter Lopez and I'm a freelance writer and a mom (I think I covered that part) and I write about toys pretty often. I can't help myself—it's fun! I also love researching solutions to parenting issues including ways to celebrate kids' birthdays while quarantined and the best way to get your child's ears pierced.
The Tests
We rode the scooters all over our hilly Los Angeles neighborhood to get a good sense of how they perform. I had my 5-year-old and 6-and-a-half-year-old, and a few other kids, test all the scooters. My husband and a friend's husband also tested the scooters meant for bigger kids (the Fuzion X-3 and the Mongoose Rise Pro 100) for durability. We tested both subjective and objective factors, asking questions like, "How easy is it to assemble the scooter?" and "How smooth is the scooter's ride?" The scoring was based on the 4- to 8-year age range.
What You Should Know About Kids Scooters
Wheel Quality
What I didn't fully realize before I started testing scooters is that there is a difference between the two- and three-wheel models. The other thing about wheels: material matters. When my daughter was around 2 years old, she had a toddler scooter, specifically the Radio Flyer My 1st Scooter. It barely rolled! So it never got used. Scooters that don't scoot are not fun. So make sure your scooter has quality wheels, such as the thick polyurethane wheels on the Micro Kickboard models. Polyurethane wheels provide a much smoother and faster ride than the plastic or PVC wheels found on less expensive scooter models. If your scooter rider has plans to do tricks, look for wheels with a metal core as they will be better able to withstand serious impact.
Wheel Size
If your child is planning to travel bumpy urban sidewalks or rocky rural terrain on their scooter, you're going to want to opt for a model with larger wheels. The larger scooter wheel will provide a smoother ride over cracked sidewalks or bumpy lanes. Larger wheels absorb shocks more effectively, providing a smoother—and safer—ride.
Two Wheels vs. Three Wheels
Generally, three-wheeled scooters are best for newbie scooter riders and smaller kids ages 2 to 6. The design of two wheels in front and one wheel at the rear provides extra stability for riders whose ability to balance may not be fully developed. The three wheel models have wider foot decks, so that kids can ride with their feet next to each other—also helpful for balance. My daughter is turning 7, and she just requested a two-wheel scooter because apparently that's what her friends have. So if your child is in the 6 to 7 range, they may prefer a more "grown up" two-wheel model. But the three-wheel models we looked at are large enough for kids up to about age 10 (maximum weight was 110 pounds for both kinds).
What to Look for in a Scooter for Bigger Kids and Teens
We were testing scooters primarily with the ages 4 to 8 in mind, but kids ages 10 and up may prefer a sturdier ride. Scooters made for bigger kids tend to be more solid and have weight limits that can accommodate adults. Some stunt scooter models even feature accessories that make it possible for riders to do tricks. Scooters designed with older riders in mind tend to have smaller wheels, making them more maneuverable for tricks, but harder to balance on.
Do You Need Extra Features?
I find the little extras, namely light-up wheels, are worth the higher price tag. Kids go nuts for light-up wheels, I've discovered. Plus, lights make nighttime scooter rides safer. If your child needs even more incentive to get off the couch and go for a ride, look for scooter accessories that can be purchased separately to make each child's scooter truly unique. Micro Kickboard offers Scooter Heads, adorable animal characters that can be attached the handlebars of your child's scooter.
Don't Forget Safety Gear
Your kid must wear a helmet, even if they're just riding up and down your flat driveway. If you want to make sure they're really safe—and avoid meltdowns over skinned knees—you might want to get some knee and elbow pads, too.
---
Other Three-Wheel Scooters We Tested
Other Two-Wheel Scooters We Tested
More Articles You Might Enjoy