— Recommendations are independently chosen by Reviewed's editors. Purchases you make through our links may earn us a commission.
New parents can be marketing magnets, desperate for any product that promises simplicity and ease. While one could certainly make do without a great swathe of the baby gear available today, there are indeed some truly must-have items. A good high chair tops that list.
Sturdy, well-made, and user-friendly, the right high chair can make all the difference at mealtimes, providing a safe way to bring baby to the family table. But with endless options on the market, how can parents even hope to choose the right one? That's where we come in.
We put seven popular high chairs to the test, looking for durable items that are easy to clean, simple to use, and grow with your little one from babyhood through the toddler years. Our top pick, the Skip Hop Sit-to-Step (available at Amazon for $170.99), earned high marks for its versatility (it turns into a step stool!) as well as how easy it was to use. For something that's more high style and can be used long past the toddler stage, you won't be disappointed with the Stokke Tripp-Trapp (available at Amazon for $199).
Here are the best high chairs, in order:
Skip Hop Sit-To-Step
Stokke Tripp-Trapp
OXO Tot Sprout High Chair
LALO The Chair
4Moms Connect High Chair
ITY by Ingenuity Yummity Yum
PRIMO Vista 3-in-1 High Chair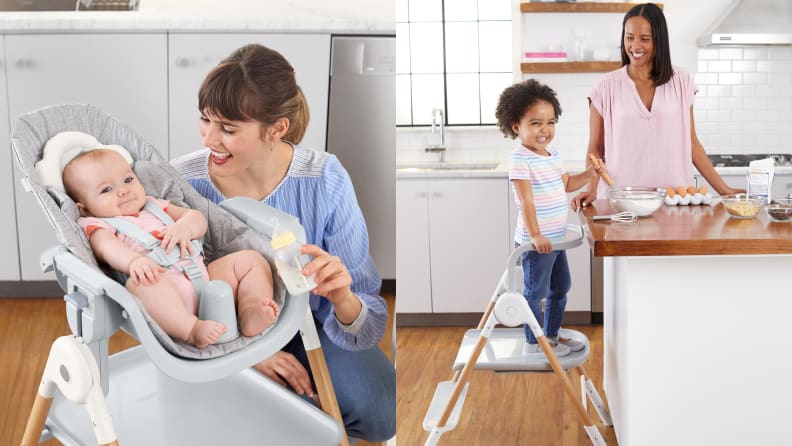 How We Tested
The Tester
I'm Lizzie Duszynski, a writer and mom of two who, for years, has had the pleasure of reviewing baby gear and gadgets meant to simplify parenthood. Studying these high chairs was a months-long family affair, as everyone from my husband to my toddler daughter to my baby niece had a hand in putting them to the test.
The Tests
We evaluated each product from assembly to clean-up, giving each high chair at least one week of continuous use. Through breakfast, lunch, and dinner—and all the necessary cleaning in between—we relied on each item for feeding our toddler (and, at times, our niece).
As we lived with these chairs, we took note of how difficult it was to assemble and clean them. We looked for simplicity in both strapping a child in and removing them from the seat. We noted options for customizing and adjusting. And we considered sturdiness, portability, design, and each item's overall size.
What You Should Know About Buying a High Chair
It needs to be easy to clean
Any parent who has chiseled old food from a high chair's crevices will tell you that finding a product that's easy to wipe clean is paramount. Look for chairs that have a smooth seat design, machine-washable cushions, and dishwasher-safe trays. Check measurements to ensure the tray will fit inside your dishwasher. It's worth noting, however, that just because a tray is billed as "dishwasher safe" doesn't mean you'll be able to put it in your dishwasher. Not all of the trays will fit in either shelf of a standard-sized dishwasher.
You Need a Footrest
Some high chairs don't include footrests, or those that are included are not adjustable to your child's height. A proper footrest offers stability and support, and is recommended by health experts.
High Chair Heights Vary
If you're counting on bringing the high chair right to the table, make certain you measure. Not all high chairs will be height compatible, so it's worth checking that the bottom of your dining table allows enough room for your child's legs. If you use a tall table (or a shorter-than-average one) you'll want to measure from the bottom of your table to the floor and check the high chair's seat and tray height before ordering.
Adjustability is Key
A high chair that promotes good posture will help your child to be calm and focused during mealtime. Look for a chair that can adjust as your little one grows.
---
Other High Chairs We Tested
More Articles You Might Enjoy