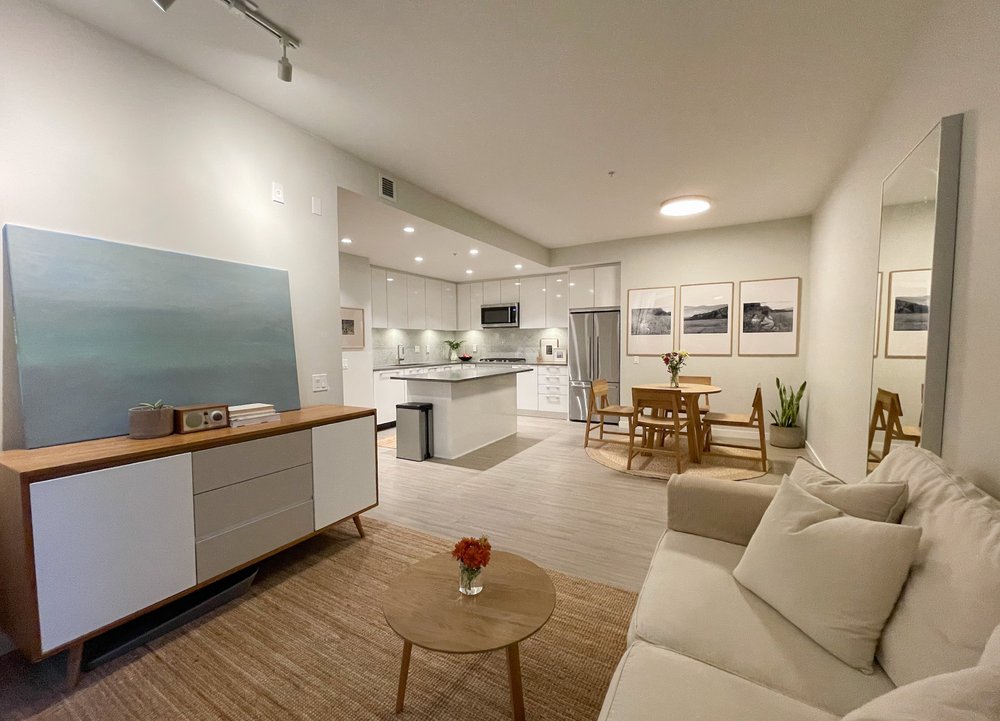 I'm always happy to share a new Small Home Tour with you and this one is extra special because it is a return tour! Getting to see your kids grow up and your families change in your small spaces is a great joy for me. We have Nucci of @our_simplestory with us again, this time sharing her 700sqft apartment in North Vancouver with us. When we first met Nucci she was living in a 400sqft studio with her family of four. I was interested to learn how she found the additional space and what small space challenges remained. I'll leave you with Nucci below…
Anything you could like to share about you, your blog, your family to introduce you to people who may not know you.
Hi friends, I'm Nucci, and I live on the North Shore of British Columbia, Canada.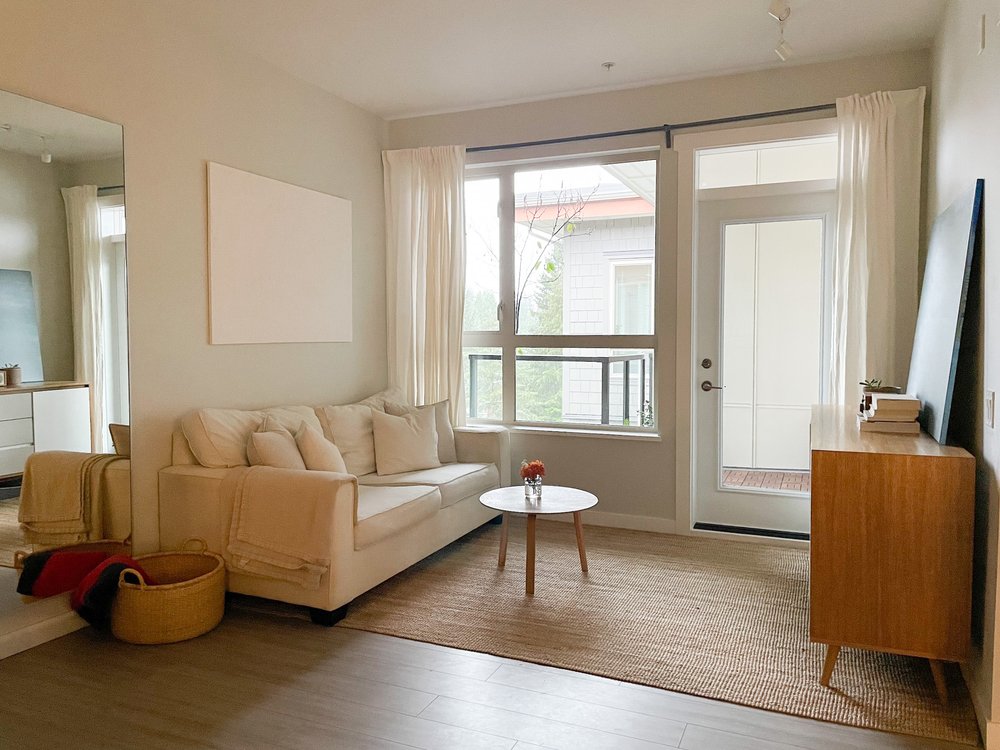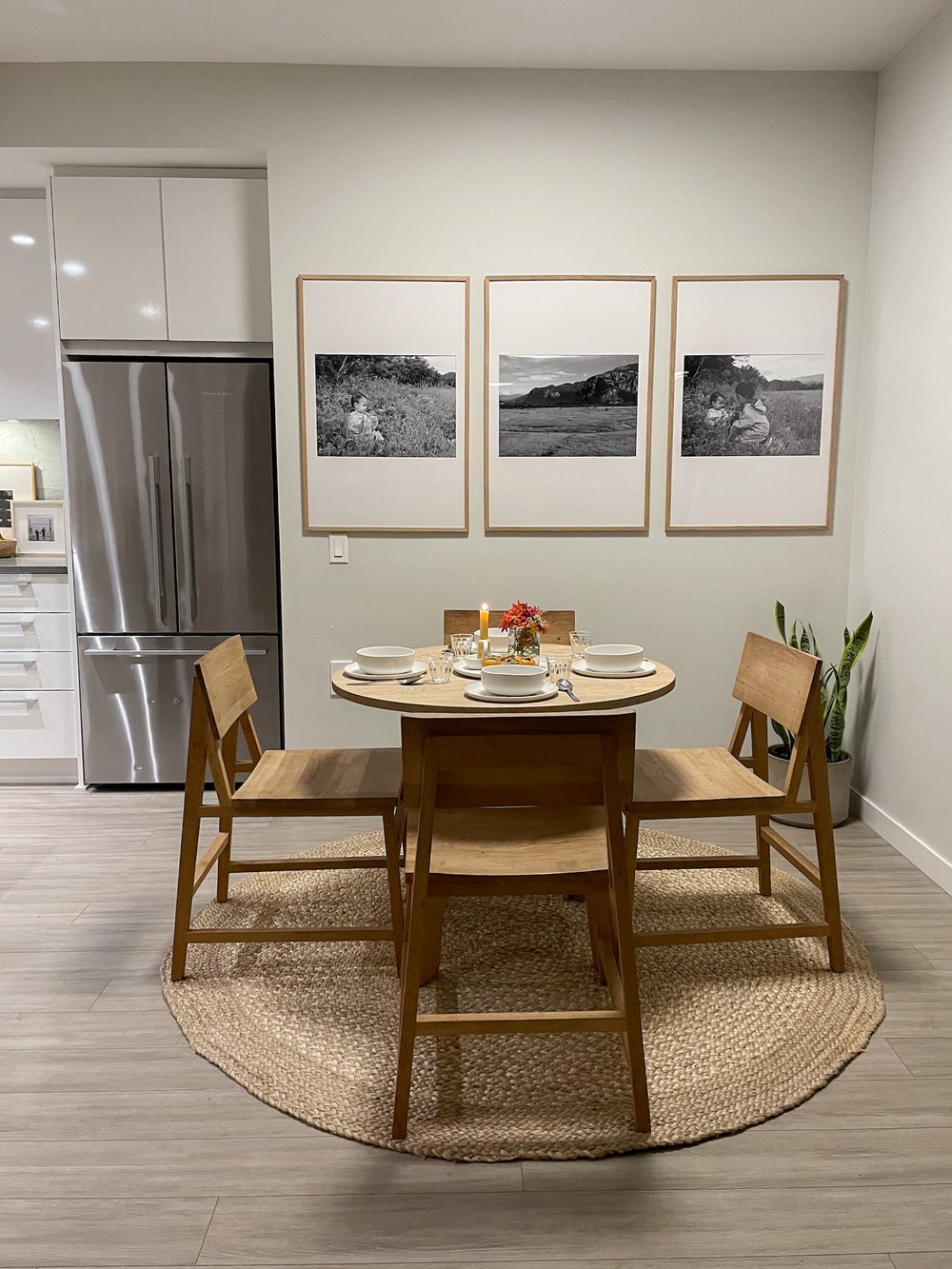 How big is your home and what is the layout?
We moved into our new home late last year and it is a 729 sq. ft. one-bedroom apartment. We moved from our 400 sq. ft. studio (which you can see here in an older small home tour . Here is a video tour too if you're curious. I am hoping to do a video tour of our current place soon.

Who lives there?
I share our home with my husband, Daniel and our two kids, Sophia and Liam, who are four and two.

Tell me about your choice to live small as a family. Was it a conscious decision or did it just evolve?
I have always loved the idea of living as small as possible, for financial, sustainable and even mental health reasons. By living the way we do, we have the freedom for me to be a full-time stay at home mom in one of the world's most expensive cities! We can also put more money into investing for ours and our kids' futures! For sustainability, by living small we require less energy to heat or cool our place. For my mental health, it's so much easier to clean and maintain a smaller home, freeing up time for me to do things like homeschool, try to hit our goal of spending 1,000 Hours Outside, and work on my YouTube channel and even some time for painting!
How would you describe your home style? ex) modern, minimal, bohemian, vintage?
I gravitate towards the japandi style and scandi design. I love to keep it as simple as possible so minimal and functional are my filters, but still beautiful.

Is there a piece of furniture or accessory that you couldn't live without that makes living in your space easier?
We bought a Dyson vacuum cleaner when we moved into our home and it has been a game changer! In our old place we just had a broom and dustpan, but since our new home came with carpets, we decided to splurge a bit and buy the Dyson, and no regrets! I love watching the kids play with it as well! Recently, I heard in an interview with the founder of Dyson, that people get great satisfaction with seeing the dirt sucked up into the vacuum, when old vacuum designs wanted to hide the dirt and companies didn't think people wanted to see what was being sucked up! It is pretty interesting to see how one person's design can change the whole industry, and I think living small is the one of the keys to issues like climate change and affordable housing, so I think if you can fill your small space with efficient items like a cordless slim vacuum cleaner that looks pretty, but also makes life a little easier - why not! I also love that I can bring it down to the car and clean up our car that seems to be the messiest "room" in our home!
Assuming you keep toys edited are there any you recommend that have survived many purges and provided entertainment?
Lego continues to be one that the kids love, but more recently I've pulled out all our Jenga blocks out of it's box, and put it in a basket for them to play with, and it's been fun for them to build all sorts of things! My daughter built a stable for her horses, and also a little home for her dolls. We still have the two teddy bears that each of our kids got almost right when they were born. They are 100% organic and I love that about them. They have also withstood many washes and kids that are pretty rough with their toys! I use it to decorate their beds when they aren't playing with them. The tea set I talked about in our last home tour is still around too.


What is something you love about living small?
The cleaning is really easy! In the time since moving here, I've developed this cleaning system and found it really helped me with my cleaning, I call it the simplicity method and it involves a two part process, one is the refresh and the other is the reset. So I've basically taken photos of all the rooms in my house and used that as a blueprint, which is the refresh portion. Within the refresh I look at each room very critically and intentionally, to make it feel as special as I can. Then when I go through each space throughout the day, I reset the room to look like the exact photo I took. By having this photo (either referring to it on my phone or mentally) I've been able to clean quickly, and efficiently, almost like I am on autopilot. Having a place designated for each item really helps! The very last secret sauce to this is my 1,2,3 to simplicity, which is once a day, I pick two rooms and spend 3 minutes in each room, 6 minutes total in a day. It can be a room that is messy, which I just get back to the original reset state, or if it's a room that has already been reset, I just go in and do any finishing touches, maybe dusting or vacuuming. I find that by having a timer on, I work with haste and am more mindful and intentional about what I am doing.

What is something you hate?
It gets messy very quickly as well, especially when you have four people all using the kitchen as a catchall! But, at the same time I still love being in close proximity to my family! The kids are growing up so quickly that I want to spend as much time as I can with them! Thankfully the extra space has allowed my husband to work from home more easily, as we turned the walk-in closet into an office for him, whereas in our old place he had to work outside in the cold and rain on our patio!

What are your best ways to beat the rainy Vancouver blues and keep from going crazy with a baby and toddler indoors?
I just purchased some boots and raincoats and hope that now that the kids are older we can spend more time in the rain! For days when we absolutely do not want to go out, my kids have really loved these dabbers (they are like the ones you would use for bingo). Books are also a perfect way to have adventures while at home! We recently sold our TV, after a 6 month experiment with having it and I am happy that we did! We found that because it was so easy to turn it on we were spending a lot more mindless time on it, so since we want to be more intentional about where we choose to spend our time and energy, we said goodbye to it and I am now working on an art piece to put in the empty space on our wall. In perfect timing, we also got introduced to the 1,000 Hours Outside challenge which means we have to brave the rain more than we normally would.

I think Small Space-ers need to stick together and share all their best tricks. Do you have any storage or organizational tips you want to share?
Like in our previous small home tour, I really believe it is important to experiment, and not to be too hard on oneself! We are so lucky to have a roof over our head, when so many others don't! The past year and a bit has really made me look to our home to find ways to make it more special. I think you don't need to spend a lot of money or fill your home with stuff to make it special, I guess that's really where I am at right now. I am decorating our new home, and trying to make it warm and cozy, since it's almost double the size of our old place, but also assessing each and every item we have, so it doesn't feel cluttered. A move with all the packing that comes along with it, will have that effect of wanting to declutter and minimize every time! The one thing I am really happy with is that we now no longer use our storage locker and rent it out for some extra cash! But beyond the cash, it's the freedom of not having to worry about even more stuff. So basically, take it easy on yourself, but also invest in your home to make it feel special.
Also I think for small spaces, hidden storage is the best so you're not always looking at things. We turned our closet into a home office and used all the shelving in our laundry room so we definitely maximized the space that the builder left empty.

Obviously these past few years have particularly challenging for small space families. Wondering if there's anything in particular that has been working for you during this time?
We have found that flexibility is our friend! On days when my husband works from home the kids sleep in our living room! On days he's at work they can sleep in the bedroom and I am able to film a video. I originally thought that a rigid schedule is what we needed, but in the end I think just going with the flow has been what has kept us sane through these last few months! That and our pretty much weekly trips to Squamish! On a side note, we have just purchased a home in Squamish, it won't be built for another 4 years, but at least we can officially say we have a home in Squamish! It's a 600 sq ft condo and we can't wait to move there soon enough!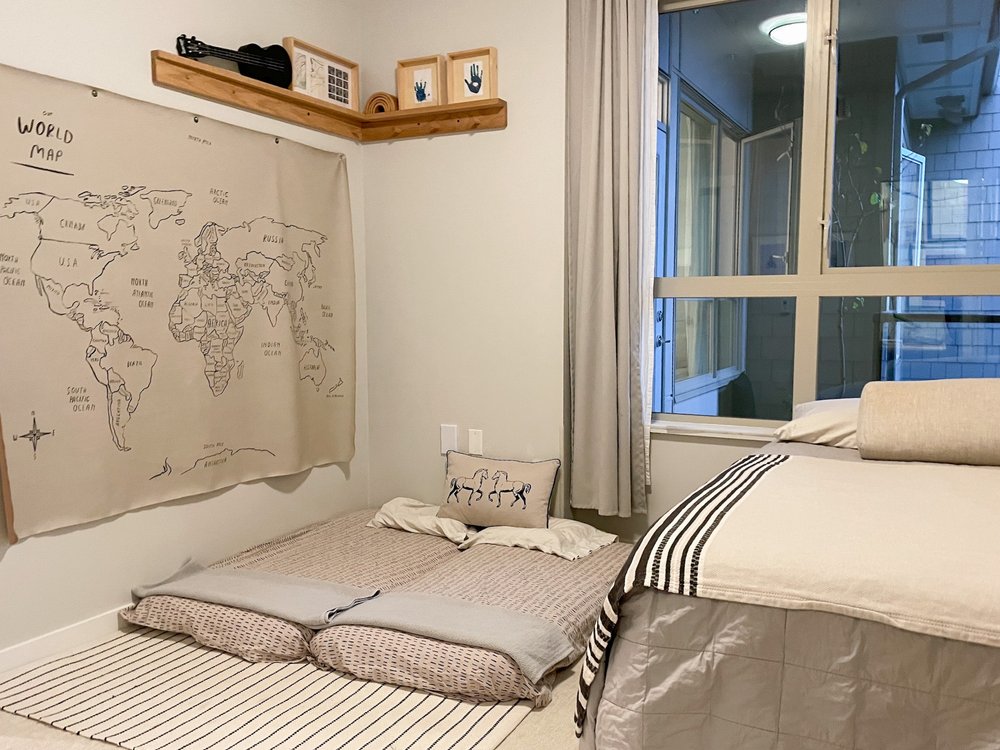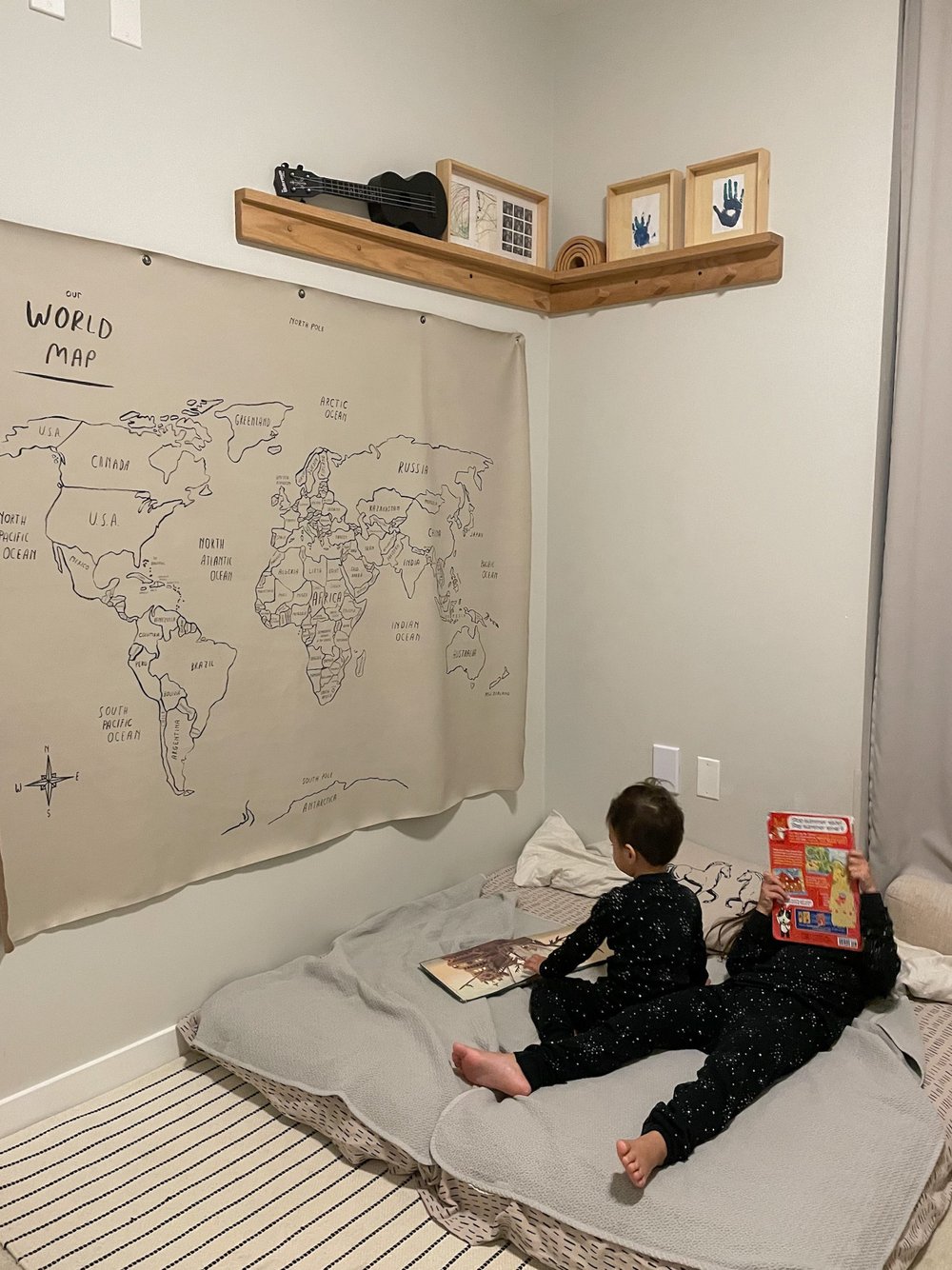 How did you find it different living in 400 square feet versus 700?
I think that the extra space was welcomed by all four of us. At the same time, it has meant that we had more space to fill, or more spaces to fill stuff with, which in turn has led to the kids having a few more toys and books, and myself and my husband having more space filled with athletic gear and/or hobbies (all my filming gear and my paint). The move going bigger I say would be an easier one than perhaps going the other way around, but as our kids get older I do enjoy them having more room to run around, to play hide and seek and maybe find quiet corners to read a book.