Click here to read Magnet Tiles Ideas that are Magnificent for Kids on Hands On As We Grow®
---
Magnetic tiles have become the new go-to building toy. They are so bright, colourful, and easy to build with, so there's lot of magnet tile ideas kids can have fun with.
They are fun for all ages (including adults). Everyone can truly enjoy them.
However, besides building with these magnificent geometric shapes, what else can you do with them?
I must say, I was a little skeptical about them at first since brand name can be quite expensive, but thought I'd give them a try.
To my amazement, they are one of the most versatile toys that can provide endless hours of fun in multiple ways.
Creativity, problem solving, math and critical thinking skills are just some the skills developed while playing with them.
Check out this cool Magnetic Tile Robot. Your kids are sure to love it!
We have several magnet tiles activities on Hands On As We Grow we have already shared over the years and today we are sharing five more creative ways to use Magna Tiles, or whatever magnetic tiles you have!
You may want to grab a set of magnetic tiles for your child's next birthday! They may be my new favorite thing. (I'm sharing an affiliate link with you, it helps support Hands On As We Grow at no extra cost to you.)
By the way, there's a ton of different brands of magnetic tiles: Magna Tiles and Picasso Tiles are the two main ones. There's a bunch of more generic ones as well. Do you research, ask your friends, look at the ratings to see what ones to get.
Let's get on to the fun ideas already!
5 New Magnetic Tile Ideas
Below, I am sharing 5 new magnet tiles activities that we just did at home. Keep reading below, I'm sharing 10 more magnet tiles ideas that you won't want to miss!
Magnetic Tile Fishing
For this activity, you will need your choice of magnetic tiles along with the following:
a large piece of paper (butcher paper works well)
a dowel stick, wooden spoon or stick
string
magnet
Grab a few magnetic tiles and trace them onto a large piece of paper then tape it to a flat surface such as a coffee table.
Next, create a fishing rod by glueing or tying a magnet to the end of a string. Tie the other end of the string to a stick, wooden spoon or a wooden dowel.
Finally, spread out the magnetic tiles on the floor. I placed them behind our couch.
Have your child use the fishing rod to fish for the magnetic tiles and match them up with the shapes on the paper.
Got a fisherman? Try pipe cleaner fishing!
My daughter loved this! She went fishing for magnetic tiles multiple times. (Moms… this is a total busy activity! Take advantage!)
The great thing about this activity is that you can make it really simple for young ones by tracing single shapes or you can make it more difficult by tracing multiple shapes together.
It's truly a simple, easy prep activity!
Magnetic Tile Target Practice
For this activity, you will need a nerf gun or a DIY ping pong ball shooter as well as a cookie sheet.
First, stand up the magnetic tiles on a cookie sheet.
If you don't have a nerf gun then the DIY ping pong ball shooter is great.
Here are the steps to create your own DIY ping pong ball shooter:
Cut the bottom out of a paper cup.
Tie up a balloon then cut off the top
Stretch the balloon over the bottom of the cup
Tape the balloon to the cup
Have a shoot off!
Have your child knock down the magnetic tiles using a nerf gun or the DIY ping pong ball shooter.
My daughter had a blast doing this!
The giggles were contagious!
The ping pong balls shot everywhere!
Magnetic Tile Farm or Zoos
For this activity you will need some plastic farm animals and a cookie sheet.
Have your child create a fence for the farm or zoo animals by standing the square magnetic tiles upright on a cookie sheet.
Too many animals and not enough space… no problem!
Add another cookie sheet and create an extension to the farm.
Learning Magnetic Tile Color Mixing Activity
This magnet tiles activity teaches kids about mixing colours. Colours are so much fun to learn about. Kids are absolutely enthralled by them.
Check out a bunch of color activities that we have for preschoolers.
To do this activity, you will need red, yellow and blue magnetic tiles.
Take two at a time to the window and overlap them to see what color they make when the colors are mixed.
This will surprise you! I know I was.
I wasn't actually sure if it was going to work but thought I'd give it a try.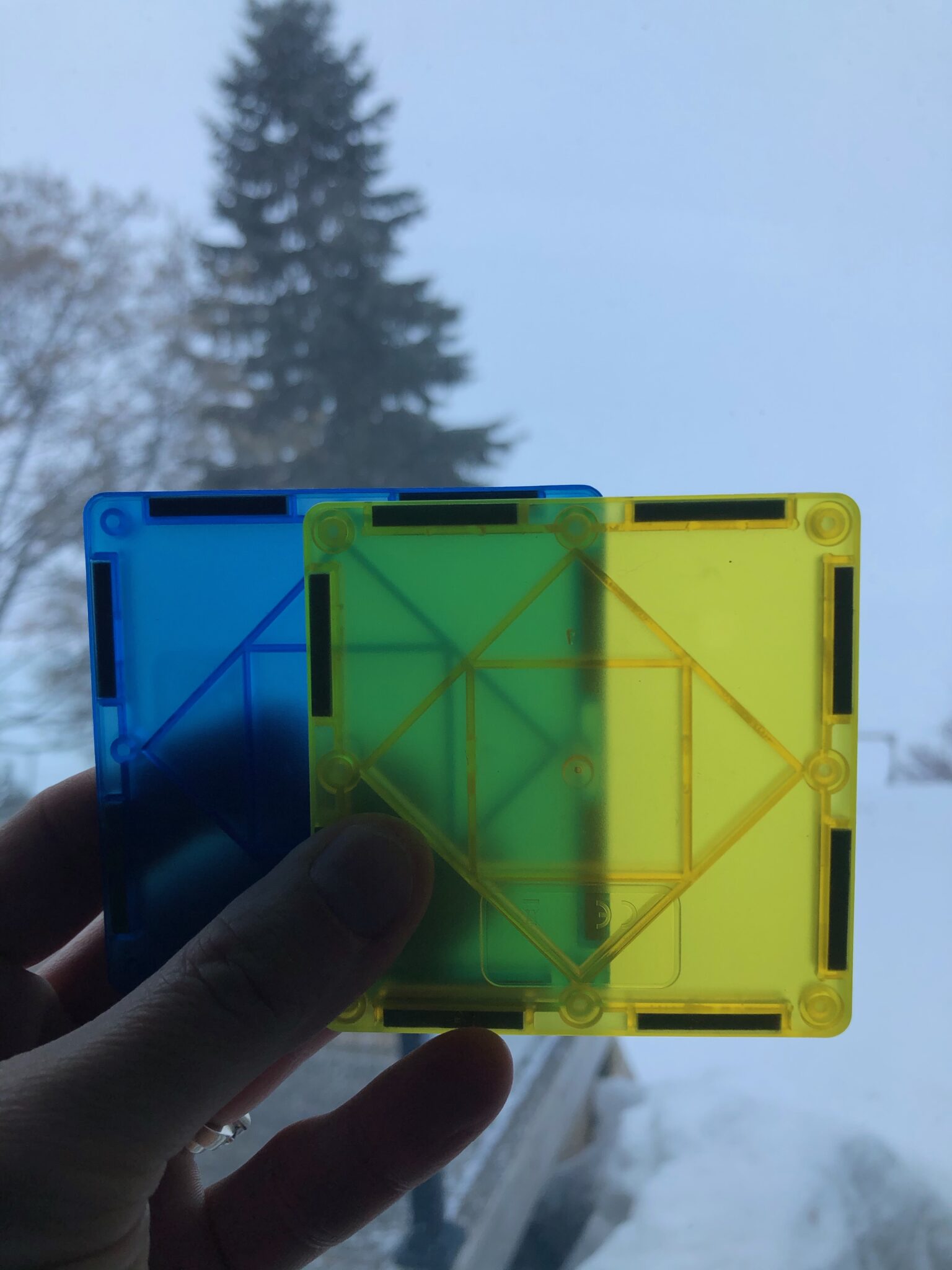 Sure enough, it worked and my daughter was shocked! Give it a try!
Magnet Tiles Alphabet Activity to Learn Letters
One of our latest magnet tiles ideas that we absolutely love is this way to learn letters, mostly because it can be turned into whatever learning we want!
For this activity, all you need is a whiteboard dry erase marker.
Using the dry erase marker, write one letter of the alphabet on each magnetic tile.
The object of this activity is clip the magnetic tiles in alphabetical order.
However, I must say this activity is actually quite versatile.
What else could you learn with magnetic tiles?
Here are some ideas and variations you could try with your magnetic tiles.
Toddlers can work on:
matching colours
matching numbers
creating a number line
matching letters
While preschoolers can work on more advanced learning topics:
matching uppercase with lowercase letters
practice spelling their names
finding sight words
putting a few random letters in alphabetical order
Magnetic tiles have really been amazing! If you've been on the fence about purchasing a pack, try it!
10 More Magnet Tiles Ideas & Inspiration for Kids:
So many creative designs and ideas for magnet tiles that young children, toddlers and preschooler can explore and learn.
I love them, the kids love them and even the grandparents love them! It's a win-win-win!
What other fun magnet tiles ideas have you done? Share with us!