Inspired toy gifts for every kid on your list from tots to grade school.
Welcome to our final gift guide! We are bringing you a Gift Guide chock full of toys for All ages, some classic, some making their debut--all of them in our top-ten! 
We love that you've been following along and shopping from each of our curated guides. We hope to help bring you a clickable holiday gift guide that has the top gifts of the season for everyone on your holiday gift list.
This gift guide features some of our top picks of toys and goodies that really work for all ages. They also make great gifts for the whole family.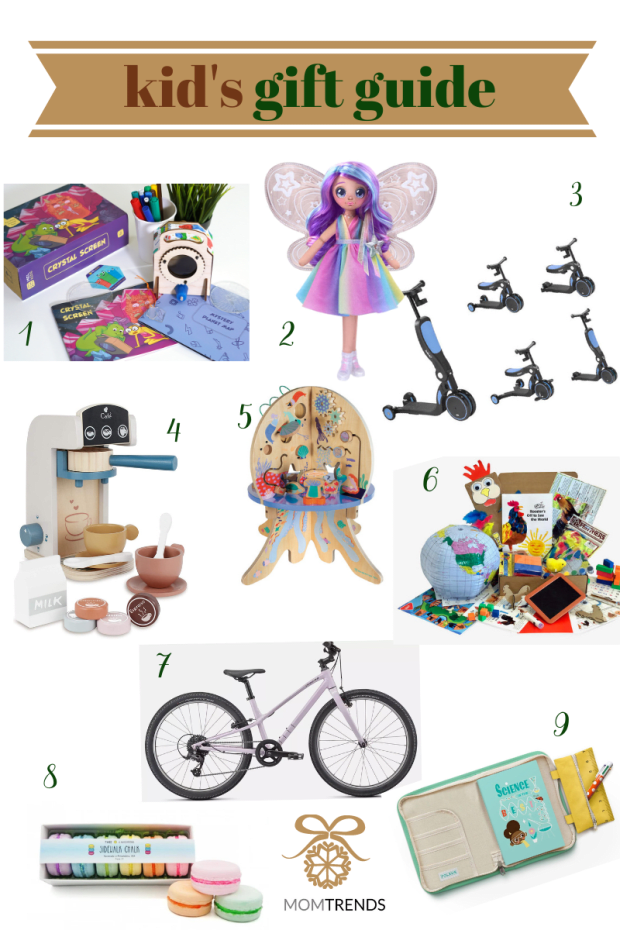 MEL Science: Learning really can be fun, it's all about the approach. MEL Science makes serious science accessible, interesting, and cool. Science is about exploration, experiments, discovery, and asking questions - all of which comes naturally to all children. You'll find fun hands-on experiments to engage, serious, detailed explanations to learn and VR and AR technologies to dive deeper into science. Subscribe to Chemistry, Physics, or STEM kits. Pick one or start with a mix. Get a new subscription set with 1–3 projects delivered every month. For ages 5—9+. Shop melscience.com here (Starting from $26.20 per month).
Dream Seekers Dolls: Stella the Dream Seeker is your magical friend who wants to share her dreams and inspire you to follow yours. This magical looking fairy with her beautiful rainbow outfit and posable long arms and legs will become your best friend because she has similar hopes and dreams. Squeeze her hand and her delicate wings light up and glow to show her inner power shine! Stella has five different colored light modes to express her superpowers! Each color indicates a special power to inspire your dreams. Rainbow indicates positivity, pink indicates caring, yellow indicates happiness, purple indicates courage and blue means calmness! Your Dream Seeker will keep your dream safe and wish for it to come true. Stella comes with 6 twist-in Hair Stars to accessorize and style her hair! Plus there is a special place for you to write your very own Dreams. For ages 5 and up. Shop Dream Seekers dolls on Amazon here ($29.84) (Note: This is an Amazon Affiliate link)
Larktale Convertible Scooter: Keep them going as they're growing. The all-new flexible scoobi™ by Larktale paves the way to a sporty ride for different ages and stages. Designed for active kiddos from 2-5 years old, the scoobi™ easily transitions from a Tricycle and Balance Bike for your youngest pathfinder to an easy-to-use Scooter for your older trailblazer. Short on storage? You only need one parking space for this multi-function toy. And it takes less than a minute to transition from one rider mode to another using push buttons and clearly numbered indicators for wheel positions. The pedals for the Tricycle mode can be attached or removed quickly and even stow away neatly when not in use. The all-in-one scoobi™ will keep your kids on a roll for years to come…and the road ahead is fun! Shop the Larktale scoobi™ 5-in-1 Convertible Scooter here ($119.99)
MOMTRENDS20 for 20% off now through December 31, 2021 on Larktale.com
PairPear Coffee Maker Espresso Playset: Brew a perfect cup: A realistic looking pretend play wooden toy. Pick a flavor, Espresso Cappuccino Mocha or Latter? Put your coffee beans, set the dial on the side, turn the filter to brew the coffee in the colorful cup.Children would spend lots of time on this wonderful Coffee maker. Set includes 13 pcs in all! This wooden playset Including cups, saucer, spoons, milk and coffee beans. Great Gift for Kids Ages 3+ years. Shop for the Espresso set on Amazon here ($37.99) (Note: this is an Amazon Affiliate link)
Octopus Activity Center: Beautifully designed and inspired by the seas, the wooden toddler adventure preschool activity center will capture the attention of curious babies and toddlers. Graphics include mermaids, crabs, a squid, a narwhal, jellyfish, underwater plant life, seashells, coral, fish, and more fish. With multiple wooden play surfaces to explore, kids will find a bead run on coated steel wire wound around a fish cutout, several peg mazes with decorative wooden knobs that move, springy seashell flaps, concealed openings, and a clacking clam. Playtime will run deep on this developmental toy that teaches effect learning, hand-eye coordination, and fine motor skill activity. This wooden activity toy for toddlers measures 21" tall and 19.5" wide, with a water-based non-toxic finish. Assembly time approximately 20 minutes. For ages 1 year and up. . Shop the Playground Adventure here. ($120)
Ivy Kids play kits: These kits provide everything children need to read, play, create, and learn! Each Ivy Kids monthly kit contains a highly rated children's book and over 12 STEM activities inspired by the story. This is a wonderful parent/child activity. The activities in the Ivy Kits have been created by certified early childhood teachers with children of their own. Ivy Kids Kits are full of fun, creative, and unique hands-on activities that promote the development of math, science, literacy, engineering, and art skills through play and exploration. For children ages 3-8. Shop www.IvyKidsKits.com here ($39.95 each month)
Specialized Jett Mountain: Specialized's mission and as a young rider starts to hit the trail, the brand's goal is to ensure they are set up with the best bike possible. The Specialized Jett, a kids bike that grows with young riders to fit them, is the brand's adjustable kid's bike. Built for ages 5-12, Jett provides a perfect fit for up to 50% longer. By fine-tuning the bike's geometry and giving it kid-friendly components and features, the bike grows with a young rider for an (estimated) 30 months, or three summers, so parents won't have to replace it with each growth spurt. Shop the Specialized Jett here ($600).
Twee Sidewalk Chalk: Twee Sidewalk Chalk is for all the inspired artists out there. These six perfect little macaroons are unreasonable delicious (to look at and play with). Their fantastic colors and perfect shapes are as satisfying to look at as they are to see drawn across the sidewalk! Their formula is dense to keep their detailed shape from breaking in transit. For the absolute best color use them on a gritty surface like the sidewalk and brick. No one can have a bad day with the Twee chalk, it's color and sumptuous shape with brighten the day of everyone who passes by your masterpiece! Pack of 6, designed for ages 3+. Shop Twee Chalk on Magic Beans here ($22)
Ada Twist Scientist Stationery Gift Set: Based on Netflix's hit animated series, Ada Twist Scientist, this set to mimic Ada's favorite brainstorming tools – a notebook and retractable pen. The set enables your little scientist/architect/engineer to discover, brainstorm ideas, test hypotheses and store items in a zipper closure canvas set. The eco-friendly FOLKUS Brainstorm set is ideal for the child on the go and features refillable notebook and accessory cases that can safely store your child's stuff – notebook, pens(s) and the things they will discover while learning and playing. Ada's signature graph ruled paper and mantra "Science is Best" is featured on the notebook. This gift set encourages active learning, modeling the practices of scientist and help children make sustainable choices. For ages: 3+ Get the Stationery Set on Folkus.co here ($29.99)
More Holiday Gift Guides from Momtrends
This is a sponsored post.