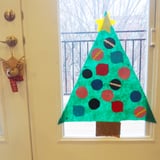 I love when my home is decorated for the holidays, or at least I did until my first-born daughter was old enough to toddle around the living room landmine of breakable ornaments and yankable stockings. I started to feel anxious every time she'd play independently that her curious hands would wind up breaking something.
Then, during one Christmas gathering a few years ago, I noticed that all the kiddos were busying themselves with something other than the giant eight-foot tree in the center of the room. When I investigated, I discovered the single smartest holiday decoration for young families. It was a simple felt tree tacked up on the low-end of the wall, with a pile of multicolored felt circles, stars, and diamonds surrounding it.
The kids - a mix of tots from 18 months old to preschool-aged - were all clamoring around it. As felt sticks to felt, the kids were able to affix the felt "ornaments" to the tree wherever they wanted with a simple pat, and then they could move them around or shake them off to start over. The simple open-ended toy captivated my daughter's attention - she was obsessed, and thus, so was I.
It seemed easy enough to replicate, and sure enough, it took one trip to the craft store and less than $10 worth of felt sheets to accumulate the supplies needed to make my own. I cut one large green triangle and then used some basic shape stencils I had lying around to cut out a tree trunk, a star topper, and a bunch of different ornaments. It took 30 minutes to make!
The simple open-ended toy captivated my daughter's attention - she was obsessed, and thus, so was I.
We have since hung our felt tree up (with a little sticky tack) just a few feet away from our real one, and let me be clear: it's the ultimate distraction to keep my little ones from attacking the real tree. If ever they got too handsy with a low-hanging ornament, I'd ask if they could help me decorate their tree. Now that my youngest daughter is approaching 5 years old, the felt tree distraction is less necessary, but it's still a beloved holiday activity. In fact, I've upped my game by making a few additional ornaments in different shapes and colors so that I can challenge her with age-appropriate tasks. I'll task her with putting up only red diamonds or to make a certain pattern.
If you love this idea but don't want to make it yourself (though I can't express to you how cheap and easy it is), similar toddler-friendly versions of the felt tree can be bought online.
Most of these are made of thicker felt and are certainly more ornate than what I created - most come with whimsical ornaments like three-dimensional candies, intricately cut snowflakes, and elaborate snowmen that I don't have the patience to compile. Some of the for-sale ones also include velcro backings for some reason (in my opinion, the whole joy of a felt tree is that you don't need to worry about adhesives), but if that appeals to you, it adds a sturdiness you won't get in a true do-it-yourself version.
Whether you go homemade or store-bought, I can promise that this tree will be a seasonal activity that your kids will enjoy, and that will buy you some time to relax.
Before you decide, take another peek at mine and a closer look at a few other versions now available online.