We've rounded up a few fun and creative Crayon Activities to Help You Celebrate National Crayon Day--and get through the rainy-day forecast.
Despite the fact that the recent rainy weather we've been experiencing has made every day feel like National Crayon Day (March 31st), the colorful truth is: today is the official calendar date. And in case you missed the big breaking news this morning, Crayola is marking the occasion by encouraging self-expression with some creative play.
Related: Science podcasts for kids
Why we love Crayons
Seriously though, we love our crayons around here. Drawing and coloring and playing with crayons is an everyday activity for my two toddlers. It helps them unwind and gives me some much-needed me-time. Heck, sometimes I even join them in a relaxing coloring sesh. (Whoever invented adult coloring books is a personal hero... Just add wine, and it's basically my ideal Friday night.)
If what to color is the question, Crayola has free coloring pages, some including your children's favorite characters here: www.crayola.com/featured/free-coloring-pages
To celebrate National Crayon Day, and entertain the kiddos--and yourself(!) during all the rainy days we're seeing in the upcoming forecast, I've rounded up a few fun ways to mark the occasion. You know, besides the ceremonial farewell to Dandelion.
Favorite Crayon Supplies for the Craft Room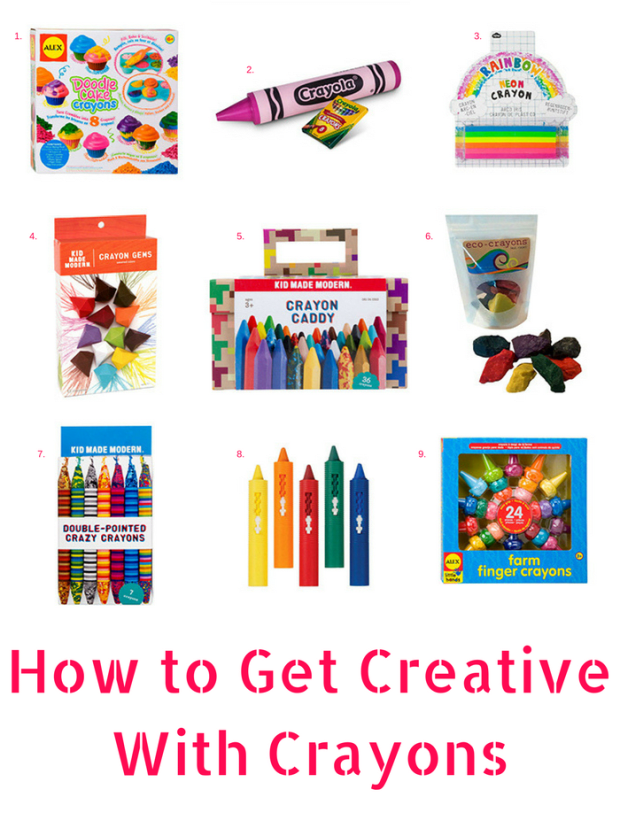 We've put together a shopable list from Amazon. Please note, these are all affiliate links.
1. Crayola Egg Crayons, $19/ 2. Crayola Mega Tub, $25/ 3. Neon Multi-Colored Rainbow Crayon, $5/ 4. Kid Made Modern Gem Crayons, $5 / 5. Modern Crayon Caddy, $20 / 6. Eco-Crayons Sea Rocks, $11 / 7. Kid Made Modern Double-Pointed Crazy Crayons, $4 / 8. Munchkin Bath Crayons, $4 / 9. Alex Toys Farm Finger Crayons, $22
Get Some Awesome New Crayons
There's nothing like a fresh box of crayons. My dad always tells a silly story about how he wouldn't to go back to Kindergarten after the first day when his teacher insisted that he share his brand-new 64-count box with the other kids. He flat-out refused. And, funny fact, he really never did go back. He started first grade the next year and skipped Kindgertenhood all together... Ah, the good ole days.
The above curated options are not your typical crayons--from a mega-sized single hue to DIY doodle cupcake crayons to bathtub-friendly tools, these fun finds with inspire your child's inner artist.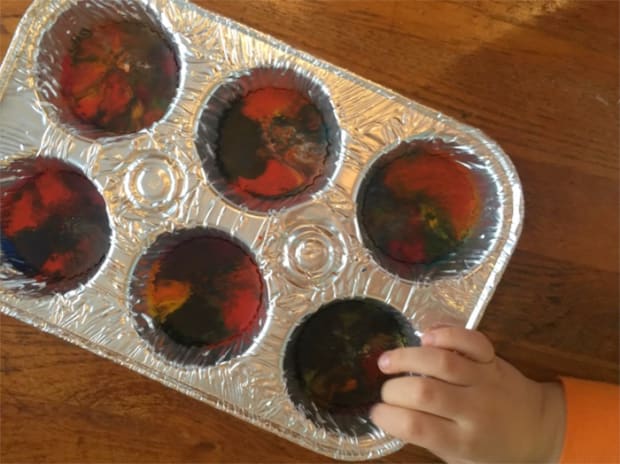 Make Your Own Crayons... or Donate Them: 
Last year for Earth Day, my little guy and I up-cypcled a bunch of broken crayon pieces, and created our own multi-colored crayon patties. It was so easy and such a fun and educational afternoon activity for us to do together. Get the step-by-step how-to HERE.
If you don't want to make your own, you can consider donating old or broken crayons to The Crayon Initiative. They'll turn your old or used crayons into new ones, and donate them to schools, hospitals, art programs, and other do-good organizations.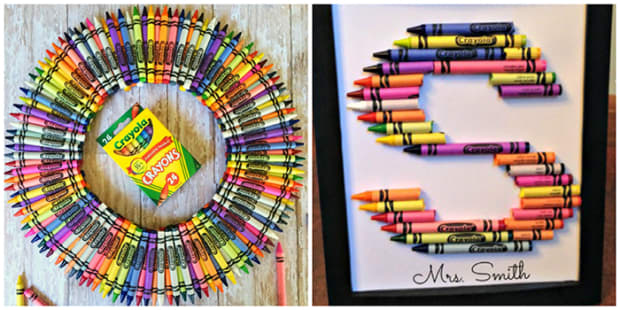 Crayon Crafts: 
Crayons can create art or be the art. Using art materials and crayons you have on hand, we would love to suggest Crayola has some cool crafts: 
Melted Crayon Butterflies
Crayon Art T-Shirt
Crayon Letter Decoration
Crayon Melter Canvas Art
Click here for the instructions on www.crayola.com
Here's another idea, try making a crayon wreath or framed crayon letter. (Both make great teacher gifts too!). And don't forget to celebrate again in August for National Coloring Day.
How will you play with crayons to celebrate this big day?
MORE KID-CENTRIC FUN FROM MOMTRENDS
PIN IT!
Need more ideas on what to do with the kids? Be sure to follow our Activities to Do with the Kids board on Pinterest here.
This is not a sponsored post. It may contain affiliate links. All opinions are our own.