Here are 10 ways to serve hamburgers and hot dogs including easy recipes for different and yummy variations that will spruce up those burgers and dogs!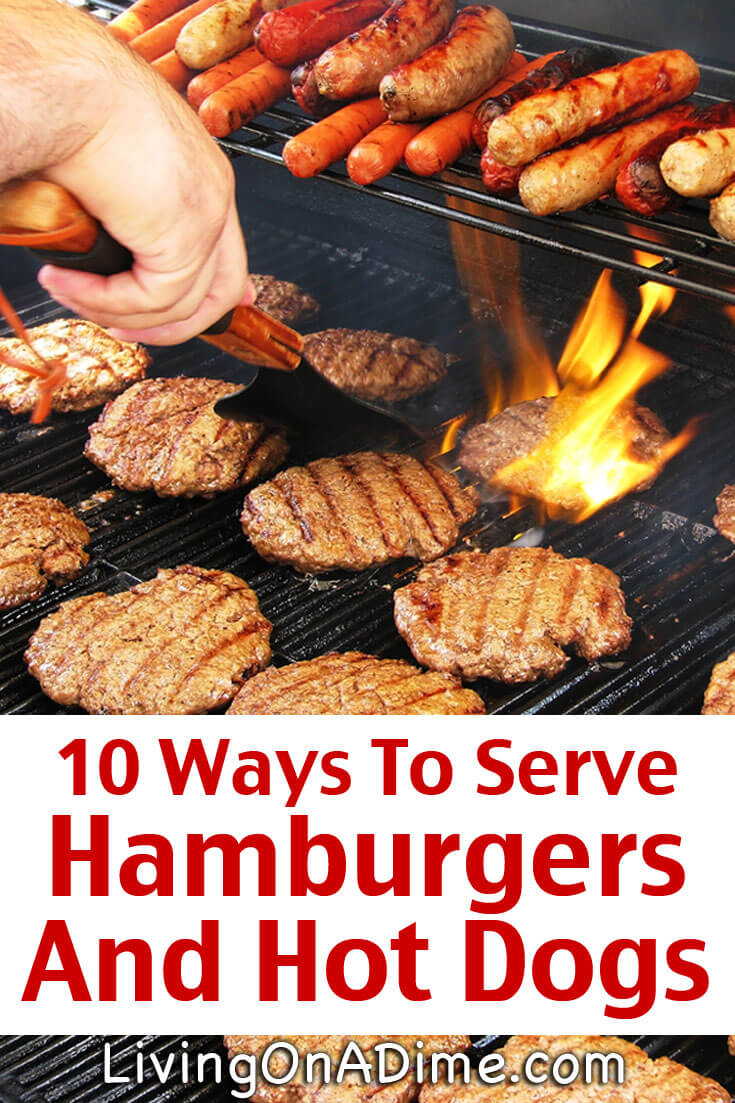 10 Ways To Serve Hamburgers And Hot Dogs
Tips:
Since we are talking about "dogs" today, here is something special you can make for that very special dog in your life. Take 3 old socks, tie or sew the ends together and then braid them for a dog chew toy. It's especially good to have a lot of these on hand for those new puppies who are always chewing on everything.
You don't have to make something different for that toddler or baby just starting to eat solid food. They can have hot dogs too. Just slice the hot dogs lengthwise in fourths for them to eat. This way you don't have to worry about them choking.
Recipes:
Whether you're a hot dog lover or not, here are some ideas to spruce up those hot "dogs" and hamburgers that you will be grilling this summer.
Have a hot dog and hamburger buffet. Instead of just having the usual ketchup, mustard and onions, teach your "dogs" some new tricks with these different toppings:
Mexican dogs: guacamole and tomatoes or jalapeño peppers, salsa, and cheese
Italian dogs: fresh basil, garlic, tomato and mozzarella cheese
Greek dogs: sun dried tomatoes (check our recipe in Dining on a Dime to make your own sun dried tomatoes), crumbled feta cheese and chopped black olives.
American dogs: Barbecue sauce, fried onion rings or corn relish with crumbled bacon.
You can use all these same ideas for hamburgers. Just place bowls of everything out so that people can help themselves and make their own special "dogs". Don't forget to include the usual toppings like lettuce, tomato, pickle, cheese and onion, too.
Leftovers:
Use those leftover hot dogs and hamburgers by adding them to:
macaroni and cheese
scrambled eggs
baked beans
chili
spaghetti sauce
pasta salad
Cheesy Mac and Dogs
1 pkg (8 oz.) elbow macaroni, cooked
1 small onion, chopped
1/4 cup butter or margarine
1/4 cup flour
1 tsp. salt
1/2 tsp. ground mustard
2 1/2 cups milk
3/4 tsp. Worcestershire sauce
12 oz. Velveeta cheese, cubed
7 hot dogs, cooked and diced
1/4 cup bread crumbs
Saute onion in butter till tender. Stir in flour, salt and mustard. Gradually add milk. Bring to a boil. Cook and stir for 2 minutes or until thickened. Add Worcestershire sauce and cheese and stir until melted. Add macaroni and hot dogs. Place in a 2 1/2 quart baking dish and sprinkle with bread crumbs. Bake uncovered at 350 degrees for about 20-25 minutes.
Mexican Corn Dogs
8 corn tortillas, (6 inch)
8 hot dogs
Oil for frying
Slightly warm tortillas by placing between 2 damp paper towels and microwave them for 10-20 seconds. Wrap one tortilla around each hot dog and secure with a toothpick. Deep fry in one inch of oil or fry in an electric skillet until golden brown, turning once. Drain and remove toothpicks. Serve with ketchup and mustard.
-Jill
The post 10 Ways To Serve Hamburgers And Hot Dogs – Easy Recipes appeared first on Living On A Dime.